Editorial Board
Needed Soon From Fed: Normal Monetary Policy
The Federal Reserve faces a daunting task with two added complications.
by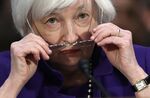 Monetary policy is slowly getting back to normal. With the economy growing at a steady moderate pace and inflation close to its 2 percent target, the Federal Reserve raised its benchmark interest rate by another quarter-point, to a range of 0.75 percent to 1 percent.
The increase was expected, and markets took it in stride. Managing the next steps in this process, however, might not be so easy. There are two main complications. One is that President Donald Trump has talked about cutting taxes and spending more on infrastructure -- implying a loosening of fiscal policy that would force the Fed to raise rates faster than it might want, or investors might expect. The other is that monetary policy, despite Wednesday's interest-rate announcement, is still very loose. So the Fed can't afford to just wait and see.
Monetary policy is loose not just because short-term interest rates are less than zero in inflation-adjusted terms, but also because the Fed's balance sheet holds more than $3 trillion in assets acquired through its quantitative easing program. These enormous holdings continue to exert downward pressure on long-term interest rates -- a stance that looks increasingly at odds with the outlook for inflation.
Headline measures of inflation are already higher than the Fed's target. Core consumer-price inflation rose to 2.3 percent in the year to January from 2.2 percent in the year to December. The Fed prefers to be guided by an adjusted "personal consumption expenditure" measure of inflation, which has held steady at 1.7 percent. Five-year-ahead inflation expectations continue to stand at 2 percent.
In short, inflation looks under control -- but the labor market is still tightening and the risk of an overshoot is starting to grow. Meanwhile, the Fed's distended balance sheet is supporting dangerously high asset valuations and a stock market that looks increasingly overpriced.
Even if Trump's fiscal stimulus fails to materialize, the Fed therefore needs to press on with its effort to normalize monetary policy. Most of its policy makers expect two more interest-rate rises this year -- no change from their previous assessment. A faster pace would make sense. In addition, the Fed ought to start preparing investors for the gradual unwinding of its asset-purchase program. Sooner rather than later it should announce plans to run its balances down as bonds mature. Finally, if an unexpected fiscal stimulus does emerge from Congress, the Fed should be ready -- and seen to be ready -- to tighten monetary policy faster.
Fed Chair Janet Yellen acknowledged these points during her press conference on Wednesday, but she resisted making any clear commitments. That's fine, up to a point. The Fed is right to be guided by data and to change its policy in light of changing facts. Nonetheless, the message could stand to be clearer. The Fed needs to pick up the pace of "getting back to normal."
--Editors: Clive Crook, Michael Newman.
To contact the senior editor responsible for Bloomberg View's editorials: David Shipley at davidshipley@bloomberg.net .
Before it's here, it's on the Bloomberg Terminal.
LEARN MORE