view
Bond Traders Face New Paradigm
Recent moves are a classic sign of a budding bear market.
by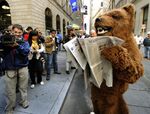 The past few weeks in the bond market have been like watching a slow-motion train wreck. You clearly see it happening, you know it will cause a lot of carnage, but you're powerless to stop it.

Although one could question whether we're experiencing a bear market, what's not up for debate is whether there's has been a decisive breakout from established trading ranges for shorter-maturity U.S. Treasuries, which are highly sensitive to Federal Reserve policy. Longer-term government bonds are on the cusp of breaking through key levels that would have typically drawn demand.

This move has the feel of a new paradigm being established, marking a break from the recent range that had traders stepping in and buy with both hands when 10-year yields rose to the 2.50 percent level, and just as eagerly sell when the resultant rally lowered yields to the 2.30 percent area. Going into the monthly jobs report on Friday, the Treasury market had fallen for nine straight days, the longest stretch by some measures since the 1970s, as Fed officials spread their hawkish wings and made clear interest-rate hikes are imminent.

But this wasn't a violent move. It was a slow slide, with two-year yields rising from 1.14 percent to 1.37 percent. At no time was there any problem with liquidity and volumes were very muted. The lack of panic in trading patterns may have lulled many traders into the belief that the old range would again hold, limiting their willingness to bet on a new bearish trend. And, the market did manage a small rally even though the Labor Department said the economy added a better-than-forecast 235,000 jobs last month.
Yet, it is interesting that Treasuries fell last week even as high-yield bonds and other so-called risk assets weakened. Usually, when those markets weaken, investors seek safety in U.S. government debt. That it didn't happen is an ominous sign. And maybe even more surprising was the failure of Treasuries to respond to an epic slide in the price of crude oil.

When Treasuries ignore such events, it can be sign of committed selling pressure that is indifferent to new information -- a classic sign of a budding bear market. Cocorporate treasurers appear eager to get their borrowing done prior to the Fed hike, as they brought $25 billion of new issues yesterday, putting upward pressure on yields.
The market is now focused whether the yield on the 10-year note, which ended yesterday at 2.62 percent, rises above 2.64 percent, which was the high in December. If that breaks, the floodgates open from a technical perspective, with 3 percent the next stop. The selling would be led by the hedge funds, and followed by the by institutional bond managers such as mutual funds and insurers, who have been more than willing to buy the dips.

With the markets now pricing in just over 2.5 Fed hikes in 2017, I would look for what could be described as a "stair step bear market,'' which is when markets become more aligned with the Fed's narrative for several months. In that case, Treasury yields would edge higher, dictated by the Federal Open Market Committee's meeting calendar. What could disrupt that path? Gridlock in Washington politics, a surge in wages or a geopolitical crisis, to name just a few.
Ultimately, how high yields go will be determined by the interplay of domestic economic growth, Fed policy and inflation -- and all of those inputs have added recently to an impetus for higher rates over the course of 2017. Last week's jobs report makes it harder to dismiss the Fed's forecast of three rate hikes this year, starting as soon as this week.
To contact the author of this story:
Scott Dorf at sdorf7@bloomberg.net
To contact the editor responsible for this story:
Robert Burgess at bburgess@bloomberg.net
Before it's here, it's on the Bloomberg Terminal.
LEARN MORE