Tech
How to Convince Customers You're Not Spying on Them
The Waldorf-Astoria was one of the first businesses to deal with espionage rumors. It won't be the last.
by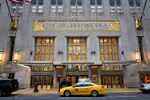 Last week, New York's famed Waldorf Astoria hotel closed for two years of renovations amid ongoing concerns that the Chinese government could be spying on guests. For decades, U.S. government officials stayed at the hotel during the United Nations General Assembly. But in 2015, after the Waldorf was sold to the Chinese Anbang Insurance Group Ltd., President Obama and State Department officials moved elsewhere, citing security concerns. Last month, New York Post gossip columnist Cindy Adams speculated that the reason for the renovations is that the hotel "is getting hard-wired."
Plenty of other hotels are likely to be up against similar concerns. In September, the same Chinese company bought 15 other U.S. hotels, including the legendary Essex House in New York and the Four Seasons in Washington. The company also tried to buy Starwood Hotels but suddenly backed out of the deal last March, amid speculation the purchase could be under review by the Committee on Foreign Investment in the United States, which examines potential purchases that could raise national security concerns and can forbid them.
Worries about espionage could lead not just political officials but also business executives to steer clear of properties owned by Anbang and other foreign companies. It's common knowledge that governments -- including the U.S., France and China -- spy on foreign businesses. The U.S. says it doesn't share such information with domestic companies in order to give them competitive advantages, but, according to the CIA, other governments do.
Technology companies also face customer fears over spying. For example, consumers have raised concerns that voice assistants like Google Home and Amazon Echo, which record what users say, could be used to snoop on them. Other electronics that can be used to gather data on consumers include televisions, cable boxes, internet modems, phones, kitchen appliances, home alarms, thermostats, baby monitors and medical devices. And just last month, German officials warned parents to destroy a "smart" doll that they said could be used to spy on kids.
With international deals and smart technology only becoming more prevalent, plenty of companies are likely to face similar concerns. So, how do you convince your customers you're not spying on them? I recommend following three simple steps:
Answer potential customer concerns preemptively and exhaustively.

Companies whose products or services are likely to raise concerns over spying should post long question-and-answer pages on their websites, explaining in extensive detail exactly how they capture and use consumer data. They should also thoroughly outline the measures they're taking to ensure that outside actors -- such as hackers or foreign governments -- aren't able to bug their properties or gain access to data from their products.

Hotels and other venues should also proactively invite the Secret Service and other agencies that provide security to governments and companies to tour and inspect their properties. During such meetings, the operators should outline their security measures and answer any questions the agencies have.
Use trusted domestic partners.

Hotels and other venues like those now owned by Anbang should consider using U.S. management companies. For example, under a 100-year agreement, the Waldorf is managed by Hilton Worldwide -- a U.S. company which has a strong interest in maintaining its own reputation by ensuring that the properties it runs aren't bugged.

Foreign companies should also consider hiring credible domestic individuals to run their security operations. For example, Anbang could put a former senior U.S. Defense Department, CIA or NSA official in charge of security at their U.S. properties. Most Americans wouldn't expect such a person to collude with the Chinese Communist Party to spy on them.

Foreign businesses trying to convince customers in other countries that they aren't spying should also consider adding board members from those countries. Such individuals could also be expected to take an interest in ensuring that their fellow citizens don't become victims of espionage on their watch. 
Use influencers as advocates.

A great way to convince consumers that properties and products are safe is to show that people who they believe have good judgment are using them. So, for example, hotels could invite current and former heads of state, chief executives of major businesses and other prominent people for complimentary visits. In exchange, the hotels could ask the influencers to share pictures of their trips on their social media accounts. (Then the hotels can share and re-tweet the posts.)

Hotels can also tout their famous guests themselves. For example, the Mission Inn Hotel and Spa in Riverside, California, has commissioned paintings of all of the U.S. presidents who have stayed there and built a wall of autographs of famous aviators who have visited. (Another option is to pay credible influencers to appear in advertisements.)
Customer fears over spying may be new, but the ways to build trust are time-tested. Companies should be forthcoming and transparent about what they're doing and seek help from people who are considered credible. (And if you don't believe me, I'll find some friends to tell you the same thing.)
This column does not necessarily reflect the opinion of the editorial board or Bloomberg LP and its owners.