Banking
European Banks Start to Get Their Mojo Back
European banks are poised for "a lot more fun," says Deutsche Bank CEO John Cryan.
by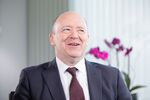 Banks in the euro zone have enjoyed a 20 percent jump in their share prices so far this year, and are up more than 50 percent from the lows reached last July. It's unclear, however, whether the improvement is down to the bloc's better growth outlook, or whether it reflects investor optimism that the finance industry finally has a post-crisis business model that can deliver a decent return on equity.
QuickTake Global Banking Regulation
Joy has been in short supply in the European investment banking industry these past few years. Firms have been relentlessly shrinking their activities, cutting staff against a backdrop of a weak economy, increased regulation and the need to bolster capital. Now, according to Deutsche Bank AG Chief Executive Officer John Cryan, the tide may finally be turning. "There's gonna be a lot more fun as we develop the business in future," Cryan told Bloomberg Television's Francine Lacqua in an interview on Monday, explaining his decision to raise 8 billion euros ($8.4 billion) from investors in a rights issue:
It's difficult when you're in a company that's in reconstruction, and we're always talking about shrinking or reducing risk. Now we can stop talking about that and start talking about how we engage with clients and counterparties and provide solutions.
Deutsche Bank's fundraising effort comes on the heels of Unicredit SpA's success in raising 13 billion euros last month, which Cryan acknowledged was a "factor" in the decision to tap investors along with a near doubling of Deutsche Bank's share price in the six months prior to the capital-raising announcement.
Investors certainly seem to have found a renewed appetite for European bank stocks. In the past six months, euro-zone banks have mostly kept pace with their U.S. peers in terms of stock-market performance (albeit they've lagged a bit in the past month on expectations of a loosening of U.S. banking rules under President Donald Trump):
Compare that achievement since September with the past five years of underperformance by the euro region's financial firms, and the improvement is clear to see:
The biggest driver of the improved outlook for banks in the euro region is a better economic outlook -- hence Cryan felt emboldened to ask investors for additional cash in Deutsche Bank's fourth capital-raising exercise since 2010. "A year ago it would have been much more difficult for us," he said in his Bloomberg TV interview. "We're feeling much more positive, the environment is good, we're seeing growth again."
Figures compiled by Citigroup Inc. show that data releases in the euro region have consistently surprised on the upside since September, marking the most sustained period of the economy outpacing economists' expectations since the start of the decade.
A charitable reading might be that improved bank balance sheets are also helping to drive share prices higher. Banks in the euro region are now much better capitalized; the European Banking Authority estimates that the average Core Tier 1 ratio -- retained earnings and common equity divided by risk-weighted assets -- improved to an average of 14.1 percent by September, up from 12.5 percent at the end of 2014.
Big issues remain. European banks may have ceded too much market share in activities such as stock and bond underwriting to their U.S peers in recent years to claw it back with clients anytime soon. The 1 trillion euros of nonperforming loans is taking far too long to deal with, amid German reluctance to sanction an EU-wide bad bank to absorb the bad loans.
Nevertheless, ECB figures show loan growth in the bloc has accelerated steadily for the past three years and is near its fastest pace this decade, suggesting financial firms are making the most of the economic recovery:
It's too soon to talk of a renaissance in European finance, but a move into what Cryan called "modest growth mode" after years of shrinkage is a welcome sign of renewed health for euro-zone banks.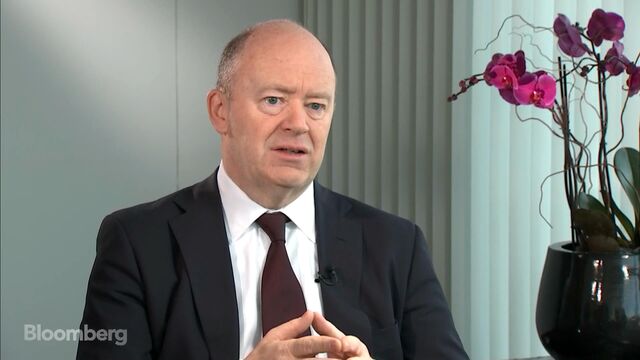 This column does not necessarily reflect the opinion of the editorial board or Bloomberg LP and its owners.