Brexit
Brexit Opponents Find Their Voice Again
The House of Lords pushes back against a hard EU exit, but the prime minister holds all the cards.
by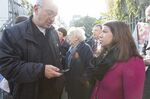 Theresa May's defeat in the House of Lords Wednesday doesn't quite compare with the scale of Donald Trump's judicial thrashing over his travel ban. But that's not an entirely ludicrous parallel either.
The Lords voted to force the government to guarantee that the nearly 3 million EU nationals living in Britain can stay. May's position is that she won't make promises until the EU gives her a guarantee that British nationals in EU countries are also welcome. Nonsense, argued the majority in the Lords. To leave so many EU citizens in limbo is practically and morally absurd, an offense to that most British of all traits, fair play. EU nationals are not bargaining chips, they argued.
The slap-down is a reminder that parliament may not be the silent partner in Brexit that May wishes. While the prime minister has defined a hard line on Brexit -- something many leaders in her own party are demanding -- the debate isn't over. And even if May still holds most of the cards, the Lords aren't the only ones pushing back, setting the scene for a potentially bigger end-game battle than the referendum campaign itself.
The House of Commons, which her party controls by a narrow majority, has already signed off on the government's bill to trigger Brexit, which May plans to do within two weeks. With its vote, the Lords -- unelected, at times unwieldy with some 800 members, but respected for its collective wisdom -- has told the Commons to reconsider.
In all likelihood, May will use her majority (and the all-important government whip) to ignore the amendment. But there's at least a possibility that a coalition of MPs opposed to the "hard" Brexit -- a clean separation from Europe in which Britain loses its access to the single market and passporting rights for financial services -- could side with the Lords and force the government to comply. Baroness Meacher, a member of the Lords, told the BBC Thursday that up to 30 Tory MPs could rebel against the government and back the amendment. Still, I wouldn't bet on it; May isn't known for her willingness to compromise and government whips are persuasive creatures.
Even if the Brexit-triggering bill passes unamended as expected, the Lords' vote sent an important message. For a while, Remainers were silenced by the charge that their opposition was "undemocratic." Now, not so much. The Lords vote follows two prominent speeches by former British prime ministers from opposite sides of the bench, calling on Britons to resist a bad Brexit deal.
On Feb. 16, former Labour Prime Minister Tony Blair, speaking at Bloomberg's London headquarters (precisely where David Cameron announced an EU referendum in 2015), urged Britons to "rise up against Brexit." On Feb. 28, former Conservative British Prime Minister John Major delivered his own warning of "overoptimism." 
Blair's call was for a new cross-party movement and coordinated communications; he promised to set up an institute to help the cause. Just because a majority voted for Brexit doesn't mean they should not have a chance to reconsider if the facts change, he told the audience in the Q&A session afterwards: "Whether you do it through a referendum or another method, that's a second-order question."  
Major's message was that Britons should get real about what they will get out of Brexit:
Negotiations are all about 'give' and' take.' We know what the Brexiteers wish to take: yet we hear nothing about what our country may have to give in return. If anyone genuinely believes that Europe will concede all we wish for – and exact no price for doing so – then they are extraordinarily naïve.
To put these speeches into perspective I visited my local MP, Tulip Siddiq, who created a media storm in January when she defied her party's three-line whip and voted against the Brexit bill (and herself out of the shadow government). Given that 75 percent of her constituents voted to remain, she said her position was always clear. "It's the right side of history," the 34-year-old says.
Like Blair and Major, Siddiq isn't beyond accepting the Brexit vote; it's the headlong rush toward an uncompromising hard divorce she's against. "We had amendments on workers' rights, maternity rights, EU nationals. Not a single one of our amendments passed. If any of them had passed, maybe I would have considered voting for the bill," she says.
Her interest is personal, too. Her grandfather was Bangladesh's founding father and first prime minister -- he was assassinated along with other family members, but her mother secured political asylum in the U.K. Born in London, she has lived in Asia and Europe. She has an eye on the 17,000 EU nationals living in her constituency and said she's been flooded with letters of concern. One of her saddest days door-stopping was meeting a distraught single mother from Spain who didn't know whether she would be allowed to stay in Britain with her 12-year-old British daughter. "Theresa May could sort this out in a minute," Siddiq says.
"There is a lot more cross-party working than is picked up in the media," Siddiq says of the opposition to a hard Brexit. At the moment, though, they seem to lack a clear strategy for getting their views across. Theresa May has promised a vote on the Brexit deals at the end of the two-year negotiating period. That, Siddiq says, is when opponents can make their move.
As Blair noted, the Brexit vote followed years of media criticism of Europe; the ground was prepared. By the same token, the ground for a softer exit also needs preparation. Even so, it seems a risky strategy to be so far behind in building support so late in the game. And what if Parliament doesn't get a say? Brexit Secretary David Davis said this week that the government should prepare for "the unlikely scenario that no mutually satisfactory agreement can be reached." No deal, no parliamentary vote. A hard Brexit would then become a fait accompli.
In the meantime, Siddiq tried to brace others for the tough fighting ahead. "Those opposed to a hard Brexit plan will have to rely on extra-parliamentary means to make their case heard," she said. "We have already seen two former prime ministers, one Labour and one Conservative, give landmark speeches warning against the very real consequences we face." So far the government looks set to reject those warnings, whether from former prime ministers, backbench Labour MPs or even the House of Lords.
To contact the author of this story:
Therese Raphael at traphael4@bloomberg.net
To contact the editor responsible for this story:
Mike Nizza at mnizza3@bloomberg.net
Before it's here, it's on the Bloomberg Terminal.
LEARN MORE