Politics
Geert Wilders Doesn't Want to Govern
While he's busy soaking up the attention, his anti-Islam, anti-EU supporters are finding their voice.
by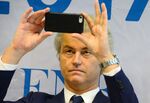 The latest polling averages in the Netherlands project that anti-Islam, anti-European Union populist Geert Wilders's Freedom Party 1 will get 22 to 26 seats in the next Dutch parliament.
They could be wrong. Maybe people are embarrassed to admit to pollsters that they're voting for Wilders, and he'll really get 30 seats, or even 35.
Still, it's important to keep a couple of things in mind:
Even if the Freedom Party confounds all expectations and gets 35 seats, that still leaves 115 seats that it won't control -- and Wilders is on such poor terms with all the other Dutch political leaders that he probably won't be able to influence them much, either (more on that later).
If the Freedom Party comes in at the high end of the current projections and gets 26 seats, it will merely equal the total achieved in 2002 by another anti-Islam, euroskeptic populist party, the Pim Fortuyn List. 2
That 2002 result came under dramatic circumstances. Fortuyn, an irrepressibly outspoken former sociology professor, was assassinated nine days before the election by a Dutch environmental activist. Afterwards, his party formed a government along with the centrist Christian Democrats 3 and the center-right People's Party for Freedom and Democracy, or VVD, 4 but it didn't last -- in part because with Fortuyn gone his top lieutenants couldn't get along with one another.
A new election was held in 2003, and the Pim Fortuyn List fell to just eight seats. In 2006 that dropped to zero. But the populist tendency didn't go away.
I've included the left-wing Socialist Party in this chart because it too has espoused nationalist, euroskeptic and even anti-Islam views, although it has moderated its rhetoric in recent years. The traditional social-democratic party in the Netherlands is Labour, aka PvdA 5 ; the Socialist Party is a former Maoist splinter group that first entered parliament in 1994. In 2006 it took the protest-vote lead with 25 seats. Meanwhile, former VVDer Wilders had formed the Freedom Party, which combined anti-Islam rhetoric with pretty conventional right-wing economic policy and won nine seats in the Dutch lower house.
By 2010 Wilders had begun shifting to a more nationalist-populist approach, and his party won 24 seats. The Freedom Party subsequently agreed to support a minority government formed by the VVD and Christian Democrats, but after less than two years Wilders's failure to come through on that support caused the cabinet to fall. In the subsequent 2012 election the Freedom Party lost ground, falling to 15 seats.
I have subjected you to all these numbers because I think they provide some helpful context for understanding and maybe tempering the excitement and consternation about Wilders and the supposed Dutch turn to populism. That turn is real, but it happened 15 years ago, and so far it has been limited to about a quarter of the Dutch electorate.
Wilders appears to have learned from his and other Dutch populists' experience that modulating one's views and playing a role in governing the country loses votes. As Arjen Lubach, the Dutch television host now known worldwide for his "America first, Netherlands second" video, the Freedom Party's platform has become less detailed and less realistic with each passing year; key planks this time around include closing all mosques in the Netherlands and banning the Koran.
In 2012 Wilders still participated in the policy-heavy rituals of Dutch elections, such as the economic scorecard of party platforms that I wrote about last month. This year he hasn't. He's found excuses to pull out of the first two television debates, and he has even stopped making campaign appearances after revelations last week of less-than-careful behavior by some of the policemen assigned to his security detail. The latter move may have been made out of legitimate safety concerns, but in general I think it's fair to say that Wilders is deliberately following a campaign strategy of pure anti-establishment symbolism, untempered by concerns about how his behavior will play with the other political parties or how any of his statements might translate into actual government policy.
This may get him a few more seats in parliament, and it is certainly getting him lots of international attention. It's awfully hard to see, though, how it could translate into political power. It is quite possible that Wilders's Freedom Party will be the largest party in the next parliament, but if so it will probably be the smallest largest party since parliament was expanded to 150 seats in 1956 (the current record is held by the VVD, which was the biggest party with just 31 seats after the 2010 election). And with Wilders having burned his bridges with every other party by his unreliability between 2010 and 2012 and his increasing withdrawal from reasoned political discourse since, there is virtually no chance that he will be part of whatever government is formed.
As my colleague Leonid Bershidsky wrote last week, Wilders represents the real concerns and fears of lots of his countrymen about immigration and Dutch identity. But while his approach may have played a role in shifting the stances of other parties in a less immigrant-friendly direction, in general it seems to have become a political dead end. In an interview this week, former VVD Minister for Integration and Immigration Rita Verdonk -- who tried forming her own nationalist-populist party (Proud of the Netherlands) a few years ago without much success -- went from calling Donald Trump a "breath of fresh air" to urging Wilders to step down from party leadership soon after the election:
The opposition to Geert is gigantic. No one in The Hague will have anything to do with him. It would be sensible for him to go away and put someone else forward. I don't have any names, mind you, but Geert undoubtedly has his eye on someone.
That sure seems unlikely -- Wilders has structured the Freedom Party so that he is the party's only member, and no one else has any formal say. But it might at least make it possible for Wilders's many supporters to have a say in how their country is run.
To contact the author of this story:
Justin Fox at justinfox@bloomberg.net
To contact the editor responsible for this story:
Brooke Sample at bsample1@bloomberg.net
Before it's here, it's on the Bloomberg Terminal.
LEARN MORE