Prophets
Treasuries Are Cheap
Bond bears are wrong: There is no wolf at the door, just opportunity.
by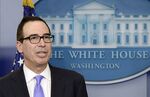 How high, and how fast, U.S. Treasury yields will move up has been a parlor game in markets in recent years.
As the 10-year Treasury hit 3 percent at the beginning of 2014, analysts competed to forecast whether it would peak at 3.5 percent, 4 percent or even higher. Expectation of higher yields was based on the belief that the pace of U.S. economic growth would pick up. This would increase inflationary pressures, and require the Federal Reserve to tighten policy, contributing to the bearish view of the bond market.
The market failed to live up to the bears' expectations. Instead, the yield moved steadily downward in 2014, hitting 1.64 percent by January 2015, and a low of 1.37 percent in July 2016. Every time the yield moved downward only seemed to cause growth optimists to again predict a yield jump. I wrote repeatedly over these years that expectations of a yield increase would not be met, and that Treasuries would continue to be an attractive asset class.

Why has the consensus been so wrong for so long on the U.S. Treasury market? One reason is that investors by and large continue to be believers in the Fed, which has repeatedly projected a faster pace of economic growth since 2009 due to quantitative easing and near-zero interest rates, and has been repeatedly wrong. Increasing the Fed's balance sheet through bond purchases was an "emergency measure," then-Chairman Ben Bernanke explained in January 2009. But the surge in the balance sheet from about $800 billion on "Lehman Day" (Sept. 15, 2008) to $4.5 trillion today could not avoid a lackadaisical 1.6 percent real gross domestic product growth in 2016.
In addition, the nominal yield on the 10-year Treasury is also determined by expectation of future inflation. Repeated forecasts by the Fed, and by the investor consensus, of a pickup in inflation did not come true because the combination of bond purchases by the Fed and ultra-low interest rates was not sufficient to encourage consumer spending. Bank lending didn't increase in a big way, either -- the cash that banks received from the Fed for selling the bonds mostly sat in their coffers as excess reserves.
Simply put, if you do not have faster economic growth or a sizable pickup in inflation, you cannot get a sharp increase in bond yields.
What are the markets signaling now? Minutes of Fed discussions held on Jan. 31 and Feb. 1 that were released Feb. 22 indicated that rates could be increased "fairly soon." But the probability that the market places of that occurring at next month's meeting has fallen after the minutes' release despite the slight increase on Feb. 27. In other words, the market is saying that hawkish Fed action in March is less of a factor in pushing up bond yields in the near term. 
Furthermore, the yield on 10-year U.S. Treasury Inflation-Protected Securities plunged on Feb. 28 to 33 basis points, from 72 basis points on Dec. 16, when concerns were paramount that President Donald Trump's policies would lead to a surge in inflation. The yield has fallen by 11 basis points over the past two weeks. So accelerating inflation does not appear to be a major concern for the bond market either.
On the growth front, Treasury Secretary Steven Mnuchin pulled back last week from Trump's expectation of 4 percent growth, suggesting instead that growth of 3 percent was possible if tax reform legislation was approved by Congress before the August recess. Even that number would be noticeable only by the end of 2018, Mnuchin said. Revised estimate of fourth quarter GDP released on Feb. 28 showed a meager 1.9 percent expansion, below consensus and unduly dependent on consumer spending. So no surge in economic growth yet that would push up the Treasury yield.
As important as domestic factors, global developments suggest that Treasuries are excessively cheap -- yields are too high. Despite rising political risk, the 10-year French sovereign yield fell to just 89 basis points on Feb. 28, and Italian paper was quoted at 2.13 percent. By comparison, the 10-year U.S. Treasury yielded 2.35 percent. 
Should we believe that U.S. sovereign risk is higher than that of France or Italy to justify a yield spread of 146 basis points over French obligations and 22 basis points over Italy? No, markets are not suggesting that.
Continued bond purchases by the European Central Bank -- at a 80 billion euros ($84.9 billion) monthly clip through next month, and at a still sizable 60 euros billion thereafter -- have distorted euro-zone bond yields, which are no longer good indicators of relative country risk. Eventually, higher risk-adjusted yield in U.S. Treasuries should attract funds from Europe, pushing the yield down.
Bond bears have been crying wolf for a long time. There is no wolf at the door, just opportunity.
This column does not necessarily reflect the opinion of the editorial board or Bloomberg LP and its owners.