Foreign Policy
Rex Tillerson's Silver Linings Playbook
A smaller State Department could use a few good managers.
by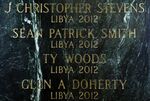 No deputy secretary. Only one out of six undersecretaries. Two out of 28 assistant secretaries.
More than a month into the Trump administration, the seventh floor of the State Department looks like Fort Zinderneuf in "Beau Geste," with empty slots or dead soldiers (i.e., "acting" officials) lining the parapets. Only five officials have been nominated, and two confirmed -- Rex Tillerson as secretary of State, and Nikki Haley as the ambassador to the United Nations.
Articles about a "silent" State Department have gushed forth, primed by President Donald Trump's spiking of Elliott Abrams' nomination as Tillerson's deputy, the defenestration of the "entire senior level of management officials" and the suspension of daily press briefings. And now reports of a nearly 40 percent drop in the department's budget have sparked new alarm.
Trump's intolerance for critics and his Robespierre-like rush to guillotine bureaucrats before picking their replacements have made Tillerson's first month on the job harder. Foreign governments don't know whom to call. Without senior officials in place, policy decisions big and small are being deferred. More than 100 admirals and generals have rightly argued that Trump's proposed budget cuts aren't worth the potential costs to U.S. security.
But trimming back the bureaucracy isn't necessarily a bad thing. In fact, the recent managerial housecleaning at the top offers an opportunity that Tillerson, the former chief executive of Exxon Mobil Corp., one of the world's biggest and best-run corporations, is built to exploit.
Start with the hand-wringing over last month's dismissal of State's management supremos -- the loss of "a combined 150 years of institutional memory," as one story mourned. The Bureau of Management still has plenty of muscle memory -- the office directors and mid-level staffers who keep the plates spinning on everything from diplomatic security and embassy maintenance to human resources and library services.
One thing the bureau no longer has is Patrick Kennedy, its longest-serving undersecretary for management and the highest-profile official forced into retirement. Republicans have long been gunning for Kennedy, whose tenure coincided with Hillary Clinton's use of a private email server, pay deals for "special government employees" such as top Clinton aide Huma Abedin, security contractor scandals, and the absence of an appointed inspector general during Clinton's time in office. Benghazi wasn't the scandal of Republican fever dreams, but surely it was a management failure.
Kennedy's legendary influence attests to the State Department's management sickness, not its strength. Consider the cliches he provokes: the most powerful guy you've never heard of, the guy with nine lives, one of the main gateways to getting an ambassadorship, knows where all the bodies are buried, etc. They're a reminder that the department can be more of a mentorocracy than a meritocracy.
During my time in the Foreign Service, management rarely struck me as a State Department strong suit, whether individually or institutionally. Maybe it was the paucity of people with private sector experience. Maybe I just had too many bizarre brushes with the personnel and administrative systems. The Foreign Service's blithe confidence that "skilled generalists" are easily turned into good managers is misplaced.
Of course, "fixing" the State Department is hard. Consider the dozens of studies on how to make the department run better. I added to this mulch pile by writing remarks in 1994 for Secretary of State Warren Christopher introducing his Strategic Management Initiative. Less than a decade later, a report by the Council on Foreign Relations bemoaned a department still "in a profound state of disrepair, suffering from long-term mismanagement, antiquated equipment, and dilapidated and insecure facilities." Out of the last five secretaries of state, only one -- the retired four-star general Colin Powell -- has run anything bigger than a committee or an office before taking the job.
In that respect, Tillerson brings something the department needs. Career diplomats wince at outsiders in the sanctum sanctorum, like the ambassador who recently sniffed that the one good argument for political appointees is that they can use their wealth to supplement Congress's paltry representational allowances. But that bias is less useful when it comes to good managers. The ex-CEO of a corporation with a headcount nearly three times that of the department's American personnel could enforce new standards of efficiency and responsibility on an institution that needs both.
Tillerson seems intent on streamlining, apparently starting by getting rid of the deputy secretary for management slot first filled under Clinton. He should keep pruning all the special envoys she created, mostly to reward political supporters or pander to constituencies. (If you've forgotten Ronan Farrow's star turn as "Special Adviser for Global Youth Issues," don't feel bad -- so has the State Department's website.) And Tillerson should beef up the office of the department's inspector general, who now isn't necessarily informed of allegations of serious or criminal misconduct. In an all-too-clubby culture, that's a recipe for coverup and scandal.
Among other challenges, the department is grappling with outdated information technology, attrition, not enough language-qualified officers and lack of oversight of the security spending that eats up a growing chunk of its budget. Tillerson's experience may incline Republican congressional appropriators to be more supportive of efforts to tackle such problems.
Given Trump's preference for incendiary tweets over stately demarches, fostering a new culture of accountability and managerial effectiveness could end up being one of Tillerson's biggest diplomatic contributions. Dedicated insiders can help in that process. So can outsiders. It's up to the administration to nominate both as speedily as possible, and for the Senate to then put them to a vote.
This column does not necessarily reflect the opinion of the editorial board or Bloomberg LP and its owners.