U.S. Economy
A Sensible, Preposterous Vision of America's Future
Prudent government planning is as necessary as it is unlikely.
by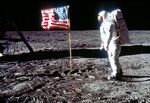 Government planning has a bad reputation, thanks in large part to the spectacular failure of central economic coordination in the Soviet Union. But if one thinks of planning as thoughtful investment designed to build knowledge and capital for a better future, it could be the key to American renewal.
Donald Trump has overstated America's troubles, using words like "carnage," "trapped" and "tombstones." That said, worrying signs of national decay abound. Between 2005 and 2014, more than 80 percent of Americans experienced flat or falling incomes. Among countries in the Organization for Economic Cooperation and Development, the U.S. ranks 33rd -- just ahead of Greece -- in the percentage of the population with healthcare coverage, even though it spends more per capita than any other nation. Education costs are spiraling upward, infrastructure is crumbling.
In a new book, Building a New American Economy, Columbia University economist Jeffrey Sachs argues that a lack of government planning is the main problem. Such coordination was key to American success in the mid 20th Century, helping to defeat Nazi Germany, eradicate polio and take a man to the Moon. Later, long-term government investment in research and development spurred the electronics revolution, and created the internet. Planning, Sachs argues, simply reflects the wisdom of delayed gratification -- wise investment creates more prosperity in the future.
That wisdom now seems lost, pushed aside by markets-know-best dogma and the obsessive pursuit of lower taxes. Total U.S. tax revenue, Sachs notes, is not even sufficient to meet costs for security and defense, social security and health expenditures, and interest on government debt. This leaves only borrowing to pay for investments in the future -- in education, job training, infrastructure and fundamental research. In the 1960s, the U.S. spent around 4 percent of gross domestic product on nondefense research and development. That figure has now fallen to about 1.5 percent.
If there's anything that spells the end of the American century, it's this yielding to short-term over long-term thinking. It's an affliction that not all nations share. Having recognized the environmental costs of rapid industrial growth, China is moving to set aside and protect key areas of lasting ecological and economic value. It's also beginning to outpace the U.S. in research and development of artificial intelligence. In 2015, China invested more than twice as much as the U.S. in renewable energy technologies.
Sachs doesn't try to explain why we've lost the capacity to plan. Rather, he focuses on what more balanced thinking might achieve. Investment in cutting edge technology, especially for energy and transportation, could enhance our capacity to grow; investment in high-quality public education and healthcare could help more people participate in a fairer society; investment in making the economy environmentally sustainable could secure a more prosperous future. Such efforts could draw on the very best knowledge, skills and experience of people in industry, universities and national laboratories -- of which we still have many, thanks to the wise investments of the past.
In short, Sachs offers an actual plan to make America great again. Sadly, his arguments sound like preposterous wishful thinking in the current political environment, adapted to a wholly different atmosphere of ideas and shared beliefs, which shows how much we've already lost. He describes a very sensible world, but it's hard to see how we'll get there.
To contact the author of this story:
Mark Buchanan at buchanan.mark@gmail.com
To contact the editor responsible for this story:
Mark Whitehouse at mwhitehouse1@bloomberg.net
Before it's here, it's on the Bloomberg Terminal.
LEARN MORE