view
Transgender Bathrooms and the Pain of My Old Friend Jack
I once knew a kid who was bullied. He turned out to be gay. I didn't stand up for him. Now I can stand up for others.
by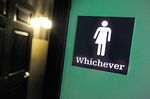 In junior high school I had a friend named Jack who was bullied. The other boys found him peculiar. Jack was quiet and in small ways unassertive. He was smart and he was sweet. He was not fat but there was a softness to him.
The other boys found him unmasculine. They taunted him mercilessly in the locker room – so mercilessly that he was often excused from physical education classes, and would sit in the bleachers reading a book while the rest of us played basketball or ran wind sprints. Although Jack and I often hung around together, I never asked him how he felt about the taunting; and although I did not participate in it, it is to my shame that I did not stand up for him either.
Even now, I can scarcely imagine the pain and isolation he must have felt.
After junior high school, my family moved away, and Jack and I lost contact. A year or so later he came out as gay. His father, Jack later told an interviewer, responded by buying him a subscription to Playboy. It did not have the intended effect.
Jack eventually found his way to San Francisco, where he gained a certain notoriety as Sister Boom Boom, his drag nun persona. Sister Boom Boom was part of a rebel comedy troupe known as the Sisters of Perpetual Indulgence, and swiftly became its most famous member. As Sister Boom Boom, Jack ran for the board of supervisors and gained tens of thousands of votes in a losing campaign.
The Sisters were known for their raucous and offensive humoresques – they once staged a heresy trial of the Reverend Jerry Falwell – and although I will not pretend that I was unoffended by Sister Boom Boom's antics (many of which I cannot describe for a family readership), when I think about what my friend Jack went through in junior high, I can well understand the urge to dispense entirely with what used to be called "traditional values."
All of this background is by way of reflecting upon the unsurprising decision by President Donald Trump's administration to withdraw his predecessor's "guidance" on the use of bathrooms by people of the opposite biological sex. The Education and Justice Departments have announced that the problem is one for states and localities to resolve. The bathroom issue has been a divisive one – witness the boycott by sports and entertainment entities of North Carolina – and even some sympathizers worry that the guidance moved too fast.
Maybe so. But maybe not. I know there are people genuinely afraid of dangers that might arise should men gain unfettered access to women's bathrooms. I know there are people moved to opposition by a genuine religious belief in bodily modesty that has nothing to do with any sort of hatred. Supporters would do better by engaging rather than demonizing these good-faith worriers. 1
But when I think about the bathroom issue, I think about a sign that hangs in my study at home, salvaged from a Southern railroad station, with its arrows directing passerby to the "white" and "colored" rest rooms. I am not saying the issues are identical. I am suggesting, however, that the genuine pain suffered by those forced to use the bathroom of the "wrong" sex is comparable to what my forebears endured. I keep that old sign around precisely to remind me of the suffering that fealty to tradition can cause.
And when I think about the bathroom issue, I also think about my friend Jack, so viciously mocked back in junior high school. I wish I had stood up for Jack when it mattered. I wish that he were still alive so that I could tell him I was sorry. But Jack, whose 62nd birthday would have been celebrated earlier this week, died of liver cancer five years ago. 2 So the best I can do is stand up for the other Jacks who are out there.
Many believe that we could evade the good-faith fears about men preying on women in the bathrooms by coming up with a legal definition of transgender, and then specifying that those who fit the definition have the freedom to use the bathroom they deem appropriate. As my Bloomberg View colleague Tyler Cowen has reminded us, however, undertaking this effort would encounter considerable conceptual difficulty. One would have to decide, then, whether that definitional tussle might constitute an improvement over the scorched-earth battles being fought now.
To contact the author of this story:
Stephen L. Carter at scarter01@bloomberg.net
To contact the editor responsible for this story:
Jonathan Landman at jlandman4@bloomberg.net
Before it's here, it's on the Bloomberg Terminal.
LEARN MORE