Latin America
Ecuador's Voters Turn Back Latin America's Pink Tide
A shaky economy and shady politics unsettle a front-runner's chances.
by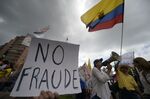 In a country where elections rarely bring surprises, the presidential race in Ecuador is turning heads. With votes still being counted from the Feb. 19 balloting, electoral officials announced late Tuesday that pro-government frontrunner Lenin Moreno had fallen shy of winning the contest outright.
So 10 million Ecuadoreans will have a second go at the polls in a runoff April 2. Suddenly, the whiff of competitive democracy in this patch of the Andes, where so-called Bolivarian socialists once called the shots, has voters in a lather. They streamed by the thousands into Quito this week to stand vigil as the National Electoral Council inexplicably drip-fed its tally.
Outside observers saw no foul play in the delay, but the anxiety was understandable. For the last decade, after all, this small and mostly poor Andean nation has lived in the shadow of Rafael Correa, a headstrong populist who ruled with one hand on the balcony and the other on the oil drum. Courting the poor, feeding the bureaucracy, bullying critics and hushing the media -- all of these were part of the palace script. The Ecuadoran media watchdog Fundamedios documented 981 attacks on journalists over the last two years. (Correa's response: Try to dissolve Fundamedios.) And if elections weren't quite rigged, their rules were crafted to assure three-time President Correa and his ruling Alianza Pais coalition the upper hand.
Latin Americans know the drill. It's what political analyst Andres Mejia Acosta, who teaches international development at Kings College London, calls the reverse Arab Spring. The political "left turn" that once raised hopes across Latin America of "new forms of participatory democracy" soon gave way to "chaotic practices and in some cases quite authoritarian ways," Mejia Acosta told me. So it was with Correa's "Citizens' Revolution."  
The citizens, apparently, had other ideas, and now Lenin Moreno will have to beat back market-friendly banker Guillermo Lasso and a host of conservatives and pragmatists eager to retire one more icon of the region's ebbing pink tide.
Ecuadoreans were once willing to overlook the excesses of Correa, a U.S.-trained economist who knew better than his mercurial peers in Venezuela, Argentina and Brazil not to spend the economy into prostration. Indeed, analysts noted Ecuador's success in reducing poverty (down 15.5 percent from 2006 to 2014) and providing jobs while keeping inflation low and debt in check. 
In fact, Correa's errors were merely masked by plenty, including a windfall in oil revenues, which he splashed on social programs and the bottomless bureaucracy. His aura dimmed with the end of the commodities boom, when the slump in oil prices led the way into deep recession in 2016, with only modest growth projected for this year. If once Correa could thumb his nose at foreign creditors -- he defaulted on $3.2 billion in sovereign bonds in 2008 -- the downturn has forced his hand. Fitch Ratings reported that Ecuador needs some $10.3 billion this year to close its deficits. In five years, the country's debt burden has swelled from 18 percent of gross domestic product to 40 percent today, Fitch said in a client note on Feb. 14. That's a hole not even lavish Chinese loans can cover.
Economic woes now threaten to erase jobs, social gains and the hopes for upward mobility that once buoyed Correa's ratings. Not surprisingly, political pushback is growing. Correa's ruling coalition controls about half the country's legislative seats, down from 69 percent in 2009, and just 19 percent of the country's 221 mayoralties. Tellingly, Correa's allies govern only 9 of the country's 56 biggest cities, Mejia Acosta found. The Eurasia Group recently touted opposition leader Guillermo Lasso to win in a runoff vote.
That's hardly a sure thing. The ruling party still boasts not just a legislative majority, but friends in the highest court and a formidable campaign machine -- with Correa himself pulling the levers and firing off provocative tweets.
Such political muscle can sweep an incumbent government to reelection or, at least, make life miserable for any upstart. But the prospect of voting out a decade of bellicose populism has already enlivened Ecuador's democracy, just as it has done in other parts of Latin America.
This column does not necessarily reflect the opinion of the editorial board or Bloomberg LP and its owners.