Politics
Both Parties Are Moving Toward the Middle on Fiscal Policy
Republicans still talk about tax cuts, but their heart isn't in it.
by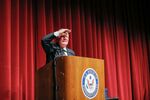 As conservative activists descend on Washington for the Conservative Political Action Conference, a surprising reality has set in: The Republican Party is no longer the party of tax cuts. Leaders are still saying some tax-cut-friendly things, but the party's heart isn't in it. On fiscal policy, they're moving toward the middle. Democrats are likely to do the same over the next couple of election cycles.
The Republican agenda on its big-ticket items -- health-care reform and tax reform -- has stalled in part because of the party's change of heart on fiscal policy. On health-care reform, leaders are caught between promises to immediately repeal the Affordable Care Act and the reality that many residents of key Trump-friendly states like Arkansas, Kentucky and West Virginia benefited from Obamacare's expansion of Medicaid. What began as "repeal Obamacare" evolved into "repeal and replace," and then became "repeal at some point and replace at some point," and now is much closer to just "repair Obamacare." Tom Cotton, the savvy Republican senator from Arkansas who may be to Trumpism what Ted Cruz was to the tea party, admitted in a town hall last night that "Obamacare has helped Arkansans."
Tax reform is on hold until health-care reform gets done, because the tax reform process hinges on a new revenue baseline that could change with reform or repeal of Obamacare. And tax reform has problems of its own, as the House plan led by Speaker Paul Ryan and Representative Kevin Brady includes a contentious border adjustment tax that would raise revenue by taxing imports; this would pay for a significant corporate tax cut. That's been met with resistance in the Senate, as retailers hate the proposal. What nobody seems interested in for now is a simple cutting of tax rates if it means a higher budget deficit.
There are more signs of Republican dissent beyond Congress. The Republican-led Kansas House of Representatives voted this week by a wide margin to expand Medicaid in the state. The Kansas House has also clashed with the Republican governor over raising personal income taxes to balance the budget; the legislature, voted to raise the tax by overriding his veto. (The Republican-led Senate narrowly sided with the governor, so the income tax is not going up.) In Michigan, a Republican plan to cut personal income taxes supported by House Speaker Tom Leonard but opposed by Governor Rick Snyder failed.
The party's internal disagreements on fiscal policy may be irreconcilable in this congressional session. But that doesn't mean Democrats should gloat, because the same internal disagreement is headed their way. While the party might be led spiritually now by liberals like Bernie Sanders and Elizabeth Warren, their influence is at a high point, and frankly, what elected Democrats believe in this congressional term doesn't really matter. They don't have the votes to take action.
What we know is that the growth prospects for the Democratic Party revolve around wealthy, Sun Belt districts that preferred either Mitt Romney or Hillary Clinton to Donald Trump. And the Democrats in those districts in 2018 who knock off Republicans aren't going to want their first votes in 2019 to be to raise taxes or expand the size of government. Democratic leadership will seek to insulate them from tough votes.
So while partisanship and polarization are seemingly getting worse by the day, in the area of fiscal policy at least, we may be witnessing both parties moving toward a similar place. Heartland and Appalachian Republicans appear more flexible on health care than they did a few months ago, and signs at the state level suggest they might be willing to raise taxes to pay for needed services. The new Republican Party's stances on trade and immigration may cost them some of their wealthy suburban districts who represented the party's traditional conservative stances on taxes and spending, leaving the remaining members of the party more flexible on fiscal policy. And as Democrats incorporate these new wealthy suburban districts into the fold, they may become more moderate, or even conservative on fiscal policy.
Health-care reform and comprehensive immigration reform may be off the table, but the two parties appear closer on fiscal issues than they have in a long time.
This column does not necessarily reflect the opinion of the editorial board or Bloomberg LP and its owners.
To contact the author of this story:
Conor Sen at csen9@bloomberg.net
To contact the editor responsible for this story:
Philip Gray at philipgray@bloomberg.net
Before it's here, it's on the Bloomberg Terminal.
LEARN MORE