view
Trump Ethics: A Jobs Program for Washington Lawyers
A bipartisan watchdog group has already filed  two lawsuits, five actions or statements and 37 freedom-of-information demands.
by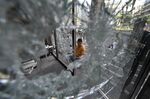 Norm Eisen likens the appropriate response to President Donald Trump's ethics challenges to the broken-windows theory of crime prevention: If you stop the misdemeanors and minor felonies it might deter the serious stuff.
Eisen, the ethics czar to President Barack Obama, now is chairing the Committee for Responsibility and Ethics in Washington with Richard Painter, the ethics counselor for President George W. Bush. The committee is bipartisan, but its fire is aimed at Trump.
In less than a month it has filed two lawsuits, five actions or statements, and 37 freedom-of-information demands. These range from accusing Trump of violating the emoluments clause of the Constitution, which forbids presidents from accepting gifts or payments from foreign governments, to potential conflicts of interest involving the Trump family, to the lack of transparency involving outside advisers.
There's at least one flaw in Eisen's broken-windows theory: It may be too late to head off a major scandal involving Trump's Russia connection, highlighted anew last week when National Security Adviser Michael Flynn was forced out after revelations surfaced about his conversations with the Russian ambassador in the last month of the Obama administration.
Trump has had nice things to say about Russia and President Vladimir Putin; U.S. intelligence officials declared in January that the Russians interfered in last year's presidential election by leaking hacked e-mails from top Democrats to help Trump; surveillance phone intercepts, it has been reliably reported, show contacts last year between Trump operatives and the Russians.
Senate committees are looking into these connections. More important is an inquiry by the Federal Bureau of Investigation.
A small but revealing tidbit in the Flynn story: When the acting Attorney General a few weeks ago decided to give the White House a heads-up on Flynn's contacts with the Russian envoy, FBI director James Comey initially objected. He didn't explain why, but he'd have had good reason to worry about White House interference.
Any investigation into a financial side of the Trump administration's Russia connection also might also require access to his tax returns, which he has refused to release.
At this stage, Attorney General Jeff Sessions, a key Trump supporter and appointee, should recuse himself from inquiries about Trump and name an outside counsel to work with Comey. Democrats were mad at Comey for going public about Hillary Clinton's e-mail investigation, but he won't go easy on Trump.
In the meantime, Eisen and Painter are targeting a lot of broken windows. Their group's budget has tripled to $6 million this year with plans to double that by next year. They are working with older reform groups, like Democracy 21 and some big Democratic donors are inquiring about financing other investigations of Trump.
One of their targets is sure to be the president's links to the company he still owns, the Trump Organization, and its real-estate and licensing interests.
Ethics experts say that turning over its management to Trump's two oldest sons, as Trump has done, will not shield the White House from potential conflicts. The company has enlisted the Washington lawyer Bobby Burchfield to keep Trump's business and government interests separate, but Burchfield is a legal gunslinger for Republicans who will find it difficult to ignore the party's stake in Trump's political health.
Right after the election, Trump's daughter Ivanka and her husband, Jared Kushner, were trying to cut deals with Chinese and Japanese interests. 
Kushner, now a top White House aide, has to make a public financial disclosure by the end of next month which will show whether he has met his commitment to fully divest from his own business interests, mainly in real estate. Ivanka is not on the payroll, but when the president and other White House aides hawk her clothing line, it violates government ethics rules. 
She also has chaired at least one meeting at which government policy was discussed, a practice, the Eisen-Painter group suggests, that could run afoul of the Federal Advisory Committee Act's open-records requirements. Republicans thought this was a big deal in 1993 when it involved Hillary Clinton and her health-care task force.
Likewise, there are questions about people with advisory appointments, like billionaire investor Carl Icahn, who has been given a free rein to monitor and recommend changes in regulations. These "special government employees" are also covered by government ethics rules. "There's no shame in saying Carl Icahn is a SGE," says Eisen. "He simply has to adhere to the rules and be transparent."
Rules and transparency are not popular concepts with the Trump administration. 
After only one month, the Trump boast that he has outdone any of his predecessors in that span is true in one area: dubious ethical practices. He also fulfilled a promise to be a job creator -- at least for Democratic lawyers.
To contact the author of this story:
Albert R. Hunt at ahunt1@bloomberg.net
To contact the editor responsible for this story:
Jonathan Landman at jlandman4@bloomberg.net
Before it's here, it's on the Bloomberg Terminal.
LEARN MORE