Prophets
Forget Hawks and Doves. Bond Traders Should Fear Lame Ducks
Fed Chair Yellen is moving toward a more centrist approach to monetary policy.
by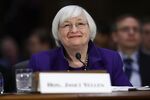 Those who closely watch the Federal Reserve like to classify central bankers in terms borrowed from foreign-policy circles: hawks and doves.
Hawks in the world of monetary policy are hyper-focused on keeping inflation suppressed by way of higher interest rates, while doves are driven by their desire for full employment obtained through lower borrowing costs. Janet Yellen's Fed has fallen deep into the dovish category since she became chair in 2014, but recent developments may hint at a new avian classification for her: the lame duck.
With only one year left in her term, Yellen appears to be moving toward a more centrist approach. In her semi-annual testimony to Congress this week she seemed intent on raising interest rates three times this year, as suggested in the Fed's forecasts from December. Jaded bond traders who have done well in recent years by dismissing the Fed's consistently overly optimistic economic forecasts and subsequent failures to deliver rate hikes took notice.
They were particularly startled to see the leading dove so confident that the economy was on a positive track with inflation heading north of the Fed's 2 percent target. Yellen has consistently focused on downside risks to the Fed's forecasts, citing "headwinds" that always seemed to restrict economic growth. This time she left those caveats behind, adding that waiting too long to raise rates has its own risks. 

The bond market has been relatively calm so far in 2017. After a nasty selloff that led 10-year Treasury yields to rise from last year's low of about 1.32 percent in July, rates have been more stable in a range of 2.30 percent to 2.63 percent the last three months. Part of that may be due to recent history. In the last few years, weak first-quarter growth tripped up both the Fed and the bond vigilantes betting on multiple rate hikes, resulting in fierce short squeezes as the target federal funds rate was increased once in December 2015 and once more a year later.

What's kept bonds from selling off more severely now is that there is a tense stalemate between bond bulls and bears as the equity markets rocket to new highs. The skeptics in the market have been willing to grant the likelihood of only two rate hikes, but Yellen made very clear in her testimony that the March meeting is live. Plus, Wednesday's shocker data showing the consumer price index rose 0.6 percent in March -- double the consensus estimate and the biggest gain since early 2013 -- fits very well into the bears' narrative of a Fed that risks falling too far behind the curve. 
Recall that the Fed saw the economy on a solid growth path well before Donald Trump's election victory, and their forecasts don't factor in a turbocharged supply-side boost from a sweeping fiscal stimulus that could accelerate the growth picture.

The big risk for bond traders now is underestimating the resolve of lame duck Fed chairs to cement their legacies. The March 15 conclave will determine whether the skeptics missed the Fed signals. If they did, 10-year Treasury yields could rapidly resume their drive to the 3 percent zone that we haven't seen since the Taper Tantrum of 2013.
To contact the author of this story:
Scott Dorf at sdorf7@bloomberg.net
To contact the editor responsible for this story:
Robert Burgess at bburgess@bloomberg.net
Before it's here, it's on the Bloomberg Terminal.
LEARN MORE