Cars
GM Took Seven Years to Figure Out the Obvious on Opel
What's an American automaker to do? The German division had to go.
by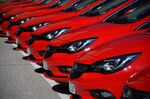 Struggling to make a profit in Europe, General Motors appears ready to sell its Opel division to French carmaker PSA Group, which makes Peugeot and Citroen cars. To say the least, this move would be long overdue.
Though General Motors Co. has owned Opel since 1928, and the brand was initially hugely successful, GM lost its way in Germany decades ago. By the time the U.S. automaker filed for bankruptcy in 2009, Opel was stuck in the red with very little upside: 
Its share of the European market had gone down from 11.5 percent in 1990 to 7.9 percent in 2008.
It wasn't a premium brand, at least not by German standards; in Germany, they joke that "Opel" stands for "Oh prima, er läuft"(Oh Great, It Moves).
And it couldn't quite be a mass market brand, either, because of a unionized, demanding workforce and the traditionally German relationship with local governments more interested in preserving jobs than in making great cars. Opel was part of Germany's rich industrial heritage, and it required special treatment.
GM's U.S. management couldn't understand what to make of its German division. It wouldn't invest in taking it upmarket and it developed a downmarket presence by selling cheap Italian-designed, Korean-made cars under the Chevrolet brand. Opel and its U.K. sister Vauxhall were poor relations in the GM family. So in 2009, the German government on both federal and state levels and the influential IG Metall union, to which Opel workers belong, were happy when eager buyers showed up -- Canada-based parts manufacturer Magna and Russia's state-owned Sberbank. They were an odd pair, but they promised to preserve Opel's 25,000 jobs, and given the Russian interest, they might have shown some ambition. 
Instead, GM turned around at the last moment and refused to sell, infuriating both the union and government officials. At the time, car companies were leery of Russian and Chinese money: Selling to these buyers could mean unwanted technology transfers and potential competition in emerging markets.
As it turned out, GM still didn't know what to do with Opel. In 2012, GM bought a 7 percent stake in Peugeot SA to try to give Opel some extra scale and cut costs by using common platforms and merging procurement. The cooperation didn't work out too well. Karl-Thomas Neumann, who had previously run Volkswagen's enormously successful Chinese operation and who became Opel's chief executive officer in 2013, would later call it a mistake: He felt the company could achieve better savings by working with other GM operations. 
In 2013, GM announced it would stop trying to sell Korean-made Chevrolets in Europe. It only managed to move 200,000 of those a year. Instead, GM decided to concentrate on the Opel brand, but the commitment was tempered by continuing cost cuts. In 2014, GM closed an Opel factory in Bochum, once the company's flagship plant. 
And yet profitability proved elusive. Neumann promised to break even in 2016, and he had a model to help him achieve it -- the new Opel Astra, named European car of the year. Opel did its best to push it, saturating the sales channels and discounting aggressively. Last year, it was one of the market leaders in self-sales -- a controversial practice in which producers sell cars to themselves and their dealers so they can later offer them for sale or lease to end clients with discounts. According to a study by CAR-Center, which surveys the German auto market, Opel had 44 percent of such sales in January through October 2016, compared with 22 percent for Ford. And it lost 239 million euros ($252 million) anyway in 2016. The falling pound thanks to Vauxhall -- or, rather, Brexit -- dragged down Opel's performance.
GM appears to have had enough of Europe at this point. It didn't want to deal with further Brexit fallout, and rebuilding the Opel name in Germany would probably take years and increased investment. Even in 2016, a successful year for the brand, it came fifth in terms of German unit sales -- behind not just perennial rival Volkswagen, but also far more expensive brands, Mercedes, Audi and BMW. 
Despite Neumann's best efforts and his success in increasing sales, Opel's European market share remained almost flat throughout his tenure. In a growing, highly competitive market, an automaker has to run just to stay in place.
PSA just pulled out of losses in 2016 under Carlos Tavares, the ambitious former second-in-command at Carlos Ghosn's Renault. After the acquisition, Tavares likely believes his company will finally realize the returns to scale GM eyed when it tried to partner with PSA in 2012. The French automaker has experience making and selling cars that are neither luxury nor quite low-budget. Compared with GM, it also has a better understanding of the European industrial culture, in which unions and local authorities are an automaker's nearly-equal partners rather than a nuisance to be fought off. For now, IG Metall and the powerful workers' council at Opel have taken a wait-and-see attitude, but they may warm to the new owner if it proves less aggressive on cost cuts than GM.
One has to wonder, though, if Opel wouldn't have done better had GM parted with it in 2009, cutting its losses and letting Russian money do some healing. PSA, after all, has been saved by a major infusion of Chinese capital from Dongfeng, which has been one of its biggest shareholders since 2013. In the auto industry, emerging markets investors often scare the established grandees, but to them, venerable car companies are more than just businesses -- they are trophies to polish and show off. India's Tata has revived Land Rover and Jaguar, and Zhejiang Geely turned around seemingly hopeless Volvo -- feats that Ford failed to achieve while it owned the European brands. Perhaps the Magna-Sberbank partnership could have made Opel a similar success in the years GM ended up wasting.
(
Corrects spelling of PSA Chairman Carlos Tavares's name in 10th paragraph.
)
To contact the author of this story:
Leonid Bershidsky at lbershidsky@bloomberg.net
To contact the editor responsible for this story:
Mike Nizza at mnizza3@bloomberg.net
Before it's here, it's on the Bloomberg Terminal.
LEARN MORE