Editorial Board
Trump, Flynn and the Politics of Credibility
Intelligence professionals and voters are losing their trust in the administration.
by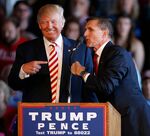 If the scandal surrounding Donald Trump's national security adviser, Michael Flynn, were merely about whether he broke the law, it would be over. The controversy persists because it calls into question Flynn's judgment and credibility -- and by extension, that of Trump's administration.
Last December, on the day the U.S. enacted sanctions against Russia for interfering in the U.S. presidential election, Flynn discussed them with the Russian ambassador. He then denied doing so, through Vice President Mike Pence, and later fell back on the convenient line that he had "no recollection" of any such discussion. On Monday, White House press secretary Sean Spicer released a statement saying Trump is speaking to Pence and others and "is evaluating the situation."
There is a 218-year-old law, never enforced, against private citizens interfering in U.S. diplomatic affairs. Aside from the question of whether the law still makes any sense, surely the national security adviser of an incoming administration deserves some leeway to talk about future U.S. policy with other governments. In any case, if Flynn and his boss wanted to clear all this up, they could release the complete transcripts of these conversations.
But it's probably too late for transparency to salvage the faith of the public -- and of the intelligence community -- in the national security adviser. Flynn has a checkered history that includes being fired as director of the Defense Intelligence Agency under President Barack Obama. But it is his dealings with Russia since leaving government service that are most alarming. In addition to his conversations in December, Flynn gave a paid speech in Moscow in 2015 at gala for the Kremlin-funded news/propaganda service Russia Today, with President Vladimir Putin in attendance.
It is just one more example of the financial ties, verified and suspected, among Trump, his inner circle and Russia's government. These connections are especially worrisome after an election in which, according to the FBI and CIA, the Russian intelligence services intervened to help Trump win and undermine confidence in American democracy. Trump has resisted any further investigation into the hacking, calling it a "witch hunt."
It is not good for national security, to put it mildly, when a president is so openly dismissive of the professionals in the intelligence community. The concern is compounded when the credibility of the president's own national security adviser, both within and outside the government, is compromised. If Trump allows this situation with Flynn to become the new normal, he won't just lose the faith of the intelligence agencies, but also that of America's allies, and, eventually, the voters who put him in office.
--Editors: Tobin Harshaw, Michael Newman
To contact the senior editor responsible for Bloomberg View's editorials: David Shipley at davidshipley@bloomberg.net .
Before it's here, it's on the Bloomberg Terminal.
LEARN MORE