Europe
Switching Debt to Francs Would Cost France Dearly
Marine Le Pen says she'll redenominate her country's debt. That would be expensive.
by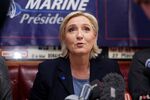 The prospect of Marine Le Pen becoming president of France is spooking investors. The recent jump in French borrowing costs undermines her claim that opting to repay the bulk of the nation's debts in francs, rather than euros, wouldn't inflict any financial suffering on the country. And so does bond-market history.
QuickTake The Euro's Existential Crisis
Le Pen's chances of becoming president have climbed to a record 32 percent, according to the website Oddschecker.com, which compiles betting odds from bookmakers. While she still trails Emmanuel Macron's 45 percent, the shift in candidates' fortunes in the past few months is striking:
No matter how adamant pollsters are that she'll lose the second round of the country's two-stage election set for April and May, bondholders have decided they need some insurance against a Len Pen presidency. They drove French 10-year yields to a four-year high last week against those of Germany, the euro region's benchmark borrower:
It's Le Pen's anti-euro stance that's worrying bondholders. In a two-hour television interview on Thursday, Le Pen repeated her plan to take control of the Bank of France and print new French francs to meet the government's debt obligations. "I can't implement my promises of intelligent protectionism and industrial policy with the single currency," Le Pen said on Sunday. "It's a brake on the economy, it's an obstacle to the recovery. The euro isn't a currency, it's a political tool."
Her chief economic adviser, Bernard Monot, met with central bank governor Francois Villeroy de Galhau in September to outline the proposal. Villeroy on Monday told France Inter radio that quitting the euro could increase France's annual debt-servicing costs by as much as 30 billion euros ($32 billion). "That might seem a bit abstract to listeners, but 30 billion euros, to be very concrete, is equivalent to France's annual defense budget," he said.
Le Pen insists that with about 90 percent of the country's debt governed by French law, redenominating it into francs comes without a penalty. But here's a chart showing what France's 10-year borrowing cost was relative to Germany's prior to the euro's introduction at the beginning of 1999:
The chart above tracks a decade of expectations for whether the euro would actually succeed in being introduced. The French spread to German bonds declined from 1990 to 1992, then climbed as Italy, Spain, Portugal and Ireland all devalued their currencies between 1992 and 1993. It climbed again at the start of 1996 as volatility surged for the Italian lire, before easing in the three years prior to the euro becoming a financial reality.
Euro membership was designed to impose greater economic discipline on the participants in the common-currency project, limiting budget deficits and restraining debt. While it's arguable how successful that's been -- the European Commission forecasts France's debt as a percentage of its gross domestic product will climb to 97 percent by 2018, up from 96.4 percent this year and 92.3 percent in 2013 -- it seems inevitable that French borrowing costs would surge relative to those of Germany if Le Pen were to succeed in redenominating government debt into francs.
"Marine Le Pen clearly could become French president," former British deputy Prime Minister Nick Clegg told Bloomberg Television's Francine Lacqua on Friday. "She's an accomplished political performer." Given the failure of soothsayers to predict either the election in November of Donald Trump or the U.K. vote last June to quit the European Union, investors are probably right to seek a yield cushion against a Le Pen victory in France.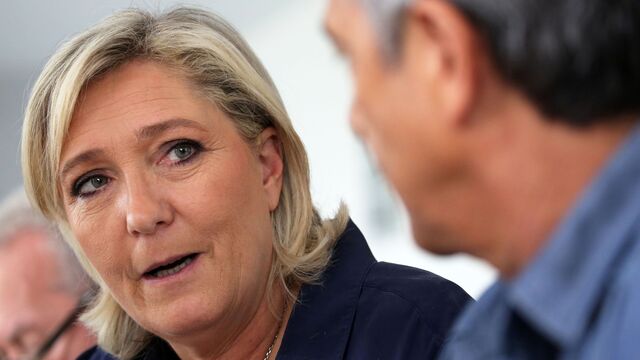 To contact the author of this story:
Mark Gilbert at magilbert@bloomberg.net
To contact the editor responsible for this story:
Jonathan Landman at jlandman4@bloomberg.net
Before it's here, it's on the Bloomberg Terminal.
LEARN MORE