White House
The President's Credibility Gap Is Also the Nation's
U.S. history offers some cautionary tales. But nothing prepared us for the Trump administration.
by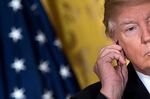 President Donald Trump's novel forms of aggression, including his ferocious assault on democratic norms, continue to batter the political system. He has inspired a lively resistance. But he remains popular in Republican districts and states, and his White House will improve its chaotic performance. An inexperienced, fractious and mediocre staff and a spectacularly unknowledgeable president will get better at planning and execution in the months ahead. If nothing else, they will learn to fake competence.
Faking credibility may be harder.
White House counselor Kellyanne Conway often does not tell the truth. White House press secretary Sean Spicer often does not tell the truth. White House national security adviser Michael Flynn appears to have been untruthful on a crucial matter of his communications with a hostile foreign power. And, of course, Trump himself states so many falsehoods, with such unrepentant regularity, that political reporters now tabulate the daily hits and misses like a box score.
None of this bothers Trump's base voters, who are, for now at least, fully at home with the administration's alternative facts. But the world at large is less accommodating. Neither Washington nor other capitals are populated by uncritical consumers of information. Credibility is political currency. After three weeks in office, and clueless bluster on everything from Taiwan to Obamacare, Trump is low on funds.
Imagine the mental checklist required of, say, German Chancellor Angela Merkel in approaching a sensitive conversation with Trump. If she is honest with him, will Trump betray her to Russia's Vladimir Putin, or to his own shady staff who will use the information against her? Will Trump unleash a childish tweet that muddies and undermines whatever understanding Merkel thought they had reached? If something goes awry, will Trump immediately seek to scapegoat Merkel? Does Trump, who is ignorant of basic historical facts, even have enough information to understand the issues under discussion?
Why would any leader -- especially one facing election this year -- put herself in such a vulnerable position? Trump is very unpopular in Germany, as he is in most places. Better to withhold and let Trump fend for himself.
The domestic political environment isn't terribly different. Obviously, Democrats have no reason to trust Trump or his staff. But even Trump's Republican allies on Capitol Hill must be mindful that he could drag them down at any moment, over anything.
"Everyone thought he would change after his swearing in," said Steve Bell, a former senior Republican Senate aide who is now a senior fellow at the Bipartisan Policy Center. "He hasn't to any significant degree." 
In an e-mail, Bell continued:
My own impression, talking with senior staff and at least two very senior Senators, as well as rumblings that we get from House leadership is simple: What's next? The Putin relationship bothers both sides of the aisle and Trump has made no case on the Hill for that relationship. The midnight tweets that attack even some GOP members of Congress. The seeming inability to understand the norms and relationships between branches of government. Questions on which foreign leader/ally he will insult next -- Mexico (done), Australia (done), EU (done), NATO (done). 

What impact does this erratic and unpredictable behavior have on elected officials overseas? What is the infrastructure plan? What about the abandonment of TPP and the opening this gives China? What does "re-negotiate NAFTA" even mean? 
Trump's hold on his voters keeps Republican politicians in line. Some of the loopier members of the House GOP conference may even be thrilled with the new president. But the thing about dishonest and untrustworthy people is that they are dishonest and untrustworthy with allies as well as enemies. Republican leaders surely suspect that their president would betray them for a tweet. And public skepticism of Trump is already considerable.
In recent history, waning credibility destroyed the presidencies of Lyndon Johnson and Richard Nixon, both of whom had been elected or re-elected, in 1964 and 1972, respectively, by genuine landslides. "A presidential loss of credibility is destructive to a president's governing powers," said historian Robert Dallek, via e-mail.
In those cases, the news media were more trusted, and the destruction was total. Johnson was broken within four years; Nixon was dispatched from the White House less than two years after winning 49 states. Similarly, doubts about President George W. Bush's competence and credibility overwhelmed his second term.  
Trump has had success in undermining trust in the news media. But he also had a serious credibility gap before he was sworn in. He entered office carrying his own Vietnam, his own incipient Watergate, within him.
His damaged psychology and low instincts exhibited an uncanny resilience during the campaign. But Trump remains a solitary figure, like Nixon, without Nixon's expertise or years of party building to fall back on. His allies are situational. They will excuse his behavior only as long as his approval ratings demand it.
No one knows what threshold Trump would have to cross to trigger an impeachment or the invocation of the 25th Amendment to remove the president. But such a threshold exists. Trump's road to power was an American detour. There is no reason to assume that his departure would be any less extraordinary.
To contact the author of this story:
Francis Wilkinson at fwilkinson1@bloomberg.net
To contact the editor responsible for this story:
Katy Roberts at kroberts29@bloomberg.net
Before it's here, it's on the Bloomberg Terminal.
LEARN MORE