Share the View
Score One for the Judiciary
by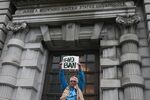 Judges to Trump: We Won't Back Down
A federal court delivered a sharp blow to the Trump administration yesterday, effectively ending the president's chaotic, contentious travel ban — at least for the time being. Noah Feldman's takeaway? Attacking judges was a Trump strategy that seriously (and perhaps predictably) backfired.
Shocking Discovery: Americans Use Food Stamps to Buy More Food
Well, it's surprising to some: According to economic dogma, "targeted benefits" like SNAP just encourage people to spend their money on other stuff. But as Noah Smith notes, new research suggests that isn't quite true.
Spy Agencies Should Kick the Contractor Habit
Fugitive leaker Edward Snowden was one. So was Harold Martin, who's alleged to have stolen a trove of information from the NSA. Bringing talented civilians into cyberintelligence work is tempting, Leonid Bershidsky says, but in practice it's proved far too costly.
Don't Let the U.K.'s Bar Tab Stall Brexit Negotiations
As disputes over money threaten to bog down Brexit talks, Mark Gilbert offers an analogy his countrymen may appreciate: The U.K. can't leave the EU pub without paying for its round. But while Britain should acknowledge the cost of Brexit, the EU has its own obligations.
Ritholtz's Reads
(Read Barry Ritholtz's full daily news roundup.)
Bloomberg Gadfly 
(Read more from BV's sister site for fast business commentary.)
Get Share the View every morning in your inbox. Subscribe here.
To contact the author of this story:

Before it's here, it's on the Bloomberg Terminal.
LEARN MORE