view
OK, Google, Who's the Most Popular President of All?
All press -- or web searches -- is good press to the ratings-obsessed Trump.
by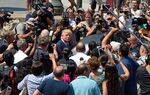 What is the theme -- the leitmotif, if you prefer -- of Donald Trump's presidency going to be? Call me crazy, but I think it's going to be ... Donald Trump.

At least, that's what it's mainly been so far, with the president's obstreperous tweets, strange phone calls with foreign leaders and other actions generating attention of a sort perhaps never before seen for a U.S. president. It's hard to say that with confidence, of course -- how would you measure it? But thanks to Google Trends, we can at least compare Trump with his predecessor, whose election was also, if you remember, kind of a big deal.
Here's Google search interest in Trump over the past year-plus versus interest in the nation that he now leads: 1
Donald Trump is bigger than the United States! At least, he was the week he was elected and for a couple of weeks around inauguration. Then again, that's not unprecedented. Here's the same chart for the equivalent period in Barack Obama's career:
Google Trends doesn't give data on absolute search volume, just search interest relative to the term for which interest was highest, on the week that it was highest. Search interest about the U.S., then, provides something of a baseline with which to compare the two presidents.

In both charts, peak interest was in the president-elect during the week of the election, and in both cases the ratio of search interest in the president-elect versus search interest in the country was about 1.5 to 1. On the other big peak, inauguration week, Obama outperformed Trump relative to the baseline. For just about every other week, though, search interest in Trump remained much closer to the U.S. baseline than search interest in Obama did. His ratings have been much better, in other words.

Ratings are clearly very important to Trump, and steering attention toward himself was key to his success in the Republican primaries. Here's the search-interest chart for Trump and four of his Republican rivals during the first six months of last year:
In the general election, Trump's search-interest lead over Hillary Clinton -- which he relinquished only during the week when she collapsed at a Sept. 11 commemoration -- brought more mixed results. He lost the popular vote by a substantial margin but turned out motivated voters in the states that counted.

Lately, the disadvantages of being the focus of everybody's attention have become more apparent. Trump's policies and appointments actually aren't all that unpopular. But the man's antics seem to be convincing more and more Americans that he's unfit for office.

Still, as Derek Thompson put it in a smart New York Times dissection of Trump's approach to media domination, he "has had dreadful weeks before -- and here we are." Trump may not be adept at many of the things that successful politicians tend to be adept at, but he's awfully good at keeping our attention.
I measured interest in the "topics" Donald Trump and United States, not the exact search terms. Here's Google's explanation of what a topic is:

Topics are a group of terms that share the same concept, in any language. ...

If you search the topic London, your search includes results for topics such as:

"capital of the UK"

"Londres," which is London in Spanish
To contact the author of this story:
Justin Fox at justinfox@bloomberg.net
To contact the editor responsible for this story:
Brooke Sample at bsample1@bloomberg.net
Before it's here, it's on the Bloomberg Terminal.
LEARN MORE