Photographer: Dan Kitwood/Getty Images
Brexit
Don't Let the U.K.'s Bar Tab Stall Brexit Talks
Britain should acknowledge there's a cost to Brexit; the EU shouldn't make footing the bill a precondition to talks.
by
The issue of what the U.K. does or doesn't owe the European Union risks becoming a landmine in the Brexit negotiations. Britain should pay what it legitimately owes for EU services it signed up to. Divorce is never cheap. But by seeking to maximize payment, and by making payment a precondition for the rest of the talks, the EU risks getting less from Britain and hurting the chances of a productive negotiation.
QuickTake Why Britain Voted to Leave the EU
The potential amounts involved are not small. They stem from what's owed to EU civil servants for their pensions -- which are, staggeringly, funded on a pay-as-you-go basis -- budget commitments and structural funds already promised, and contingent liabilities (those that may arise in the future).
A figure as high as 60 billion euros ($64 billion) has been mentioned, although a paper published last week by the Centre for European Reform came up with scenarios that ranged from 24.5 billion euros to almost 73 billion euros. The divergence depends on whether the U.K. share is 12 percent (its average post-rebate budget contribution in recent years) or 15 percent (based on gross national income), whether contingent liabilities are paid up front, and how rebates are dealt with.
Ivan Rogers, the former British envoy to the EU, says a dispute over money could be an "immensely complex part" of the exit negotiations. "The total financial liability might be in the order of 40 to 60 billion euros," he told U.K. lawmakers last month. "I can see how they get to that figure."
The news service Politico reported that the issue was "one of the main items for discussion" between chief EU negotiator Michel Barnier and his officials on Monday. On Tuesday, European Commission spokesman Margaritis Schinas explained why the U.K. should honor its financial commitments in language beer-loving Brits can relate to:
It is like going to the pub with 27 friends. You order a round of beer, but then you cannot leave while the party continues; you still need to pay for the round you ordered.
Britain will balk at footing the bar bill. Even if Prime Minister Theresa May did not campaign for Brexit, the idea that Britain will save money in leaving Europe has become an article of faith for Brexiters. The government will struggle to sell a big transfer payment. But it's worth remembering that this is a one-time settlement. Britain and Europe both have long-term economic interests in a fair Brexit deal that includes a wide range of relations from trade to financial services. Both sides have an interest in those negotiations proceeding smoothly.
For Britain, that means dropping the rhetoric that an exit cost is "bizarre" or "absurd," the words used by Trade Secretary Liam Fox last month. The U.K. has had the benefit of the EU civil service for more than 40 years, for example; clearly it has an ongoing liability to those civil servants for as long as they draw a pension.
For the EU, letting the headline number drop by ignoring contingent liabilities for now probably makes sense. It would also be good politics to allow the U.K. to spread the payments over several years rather than trying to impose a lump-sum cost. And, perhaps most importantly, insisting that the U.K. reaches an agreement on the amount due before the rest of the divorce proceedings can take place risks over-dramatizing the issue.
"The days of Britain making vast contributions to the European Union every year will end," May said in her Jan. 17 speech outlining her government's Brexit priorities. Well, yes, they will. But there's a bill to settle first.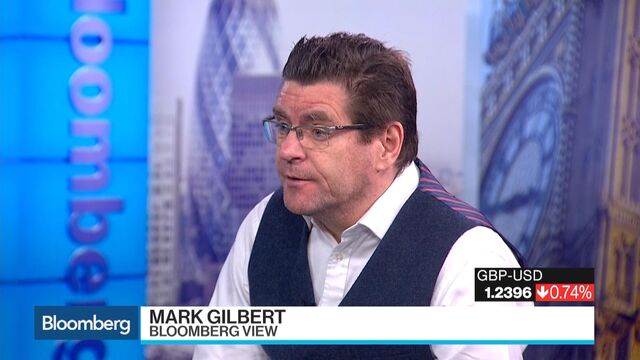 To contact the author of this story:
Mark Gilbert at magilbert@bloomberg.net
To contact the editor responsible for this story:
Therese Raphael at traphael4@bloomberg.net
Before it's here, it's on the Bloomberg Terminal.
LEARN MORE