Prophets
Bond Technicians Gain Newfound Respect as Pattern Breaks
Treasury market is "coiling" for a big move.
by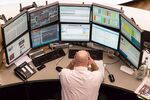 The bond analysts who study past trading patterns to divine the future of prices and yields have been a forlorn bunch for the last few months.
Since the initial sell-off in the weeks after the presidential election, the market for Treasuries has largely been little changed. The term that technical analysts use when markets move sideways sounds unpleasant -- congestion -- and it is never a happy moment for anyone. Bond traders are trained to identify trends and run with them, so a see-saw trading pattern is one they dislike.
Technical analysis is a subject of sharp debate. Some view it as a cultish religion guided by squiggly lines on a screen and phrases such as "abandoned baby formations" or "gravestone dojis" rather than a scientific approach. Others obey its arcane rules sets without deviation. The reality is somewhere in the middle, a useful tool among many. That's what makes for interesting trading: opposing market doctrines that all have committed believers.
Most technicians use simpler charts to determine just when a market goes from congestion to breakout -- and we are getting close to some of those markers in the Treasury market. Those analysts now say the market is "coiling" to describe an inevitable big move after an extended period when the yield on the benchmark 10-year Treasury note has held near 2.50 percent.
The yield has had a bit of a breakout that past few days with no specific trigger, falling to 2.33 percent versus the 50-day moving average of 2.45 percent since the post-election sell-off in November. Those who believe in trends and those who believe in momentum will increase their commitment to long fixed-income positions if the yield holds near 2.30 percent, a key area of "resistance" to lower yields. Those who look at five-year Treasuries are focused on a potential break of the 1.80 percent area, after the yield fell to 1.82 percent from this year's intraday high of 2.01 percent late last month.


A move through a long-term area of resistance or support can often attract a whole new group of speculators, especially in the futures markets, where the trend-following CTA advisers operate. Those new players tend to turbocharge an already-developing trend. Of course, the counterargument is that those latecomers to the party are precisely the types of players that fundamentally-driven speculators want to fight.
To be sure, coiling can last a long time, particularly when your central bank is holding short-term interest rates at zero for most of a decade. And it's still too early to call a bullish breakout in Treasuries with the prospect of two or three rate increases coming this year from the Federal Reserve combined with the likelihood of bigger budget deficits and greater supply of longer-maturity government debt.
But chart followers don't look at the Fed. They are concerned with the recent trading trends, as well as data showing hedge funds are still betting on a bear market -- positions that would need to be reversed in a rally, adding to demand.  
It's not quite chart fever yet, but it isn't far away.
To contact the author of this story:
Scott Dorf at sdorf7@bloomberg.net
To contact the editor responsible for this story:
Robert Burgess at bburgess@bloomberg.net
Before it's here, it's on the Bloomberg Terminal.
LEARN MORE