Share the View
Why South Asia and West Africa Should Worry Apple
A daily digest of opinions and analysis from Bloomberg View.
by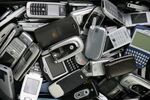 Smartphones Have a Surprising New Rival
In emerging markets such as India and Ghana, the humble feature phone — that relic of the aughts, with its simple handset and small screen — is having a major revival. Adam Minter explains why industry heavyweights like Apple should be concerned.
The Bureaucrats' Crisis of Legitimacy
How do you work for an administration that's actively undermining you? That's the latest quandary facing career federal employees in the U.S., but it's hardly the first one: As Justin Fox notes, a fight over their proper role has been brewing for years.
Debating the Future of Dodd-Frank
Donald Trump wants to roll back most of a law designed to prevent a repeat of the 2008 financial crisis. Do economists say yea or nay? Partners in vocation if not ideology, Tyler Cowen and Noah Smith offer their cost-benefit analyses.
Donald Trump, Paper Tiger
Republicans fear becoming the president's next target, but there's not much evidence his past victims suffered serious political damage. Jonathan Bernstein is ready to call Trump's bluff.
Ritholtz's Reads
(Read Barry Ritholtz's full daily news roundup.)
Bloomberg Gadfly 
(Read more from BV's sister site for fast business commentary.)
Get Share the View every morning in your inbox. Subscribe here.
This column does not necessarily reflect the opinion of the editorial board or Bloomberg LP and its owners.