Immigration
Texas Prepares to Battle Its Sanctuary Cities
How much damage will a state inflict on itself?
by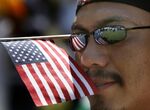 The Donald Trump administration's war on sanctuary cities has begun as a proxy battle.
Texas Governor Greg Abbott and the Republican majority in the state's Legislature have taken up Trump's battle cry against liberal cities that decline to cooperate fully with federal enforcement of immigration law. State Senate Republicans are promoting legislation to deny funds to Texas jurisdictions that discourage local law enforcement from "inquiring into the immigration status of a person under lawful detention or arrest."
If a measure passes in both houses of the Legislature, it will be interesting to see how much damage Abbott is willing to inflict on his own cities and his state's economy. He has promised to "hammer" Travis County, which includes the city of Austin and the state capitol.
Travis County Sheriff Sally Hernandez has said that her department will cooperate with federal agents seeking to detain county inmates suspected of being undocumented immigrants only in cases when the inmate is accused of serious crimes such as murder, sexual assault or human trafficking.
Last week, in retaliation, Abbott said he would cancel $1.5 million in criminal-justice grants to the county.
Only California has more undocumented immigrants than Texas. The Migration Policy Institute, a Washington think tank that supports immigration, estimates that about 1.5 million Texas residents are undocumented. The Department of Homeland Security in 2011 estimated the number was closer to 1.8 million, more than twice as many as in Florida.
While estimates vary, no one doubts that the economic impact of the undocumented population is substantial. According to the MPI, more than half of the state's undocumented population is in the labor force, and four in 10 live in owned, not rented, homes. (Nationally, the Center for Migration Studies estimates that 2.4 million households with undocumented immigrants have mortgages.)
The Institute on Taxation and Economic Policy estimates that undocumented immigrants in Texas pay about $1.5 billion in state and local taxes. (Texas has no state income tax, but it has a 6.25 percent state sales and use tax.)
The children of undocumented immigrants -- both citizens and noncitizens -- take advantage of Texas public schools. But few undocumented immigrants exploit Texas's generous social safety net for the simple reason that Texas has no generous safety net to exploit. 
A little more than five years ago, Texas's then-governor Rick Perry, who was running for the Republican nomination for president, defended his policy of providing in-state tuition discounts for undocumented immigrants attending college.
"If you say that we should not educate children who have come into our state for no other reason than they have been brought there by no fault of their own, I don't think you have a heart," Perry said at a 2011 presidential debate.
Republican politics in Texas have changed. Both Abbott and Lieutenant Governor Dan Patrick have called for restrictions on in-state tuition for the undocumented.
Abbott's proxy war, presuming he genuinely pursues it, will jeopardize labor markets, local housing markets, tax revenue, economic activity and the social fabric of Hispanic communities. (Hispanics are about 39 percent of the state's population.) In return, the governor will gain the chance to serve as Trump's sidekick in a campaign of mass deportation. 
With California all but declaring war on the federal government, Texas may be the easiest place for the Trump administration to get the deportation train moving, with the goal of using aggressive action by the government to induce undocumented immigrants to quit the U.S. on their own.
How Texas cities such as Austin and Houston -- which has one of the largest undocumented populations in the U.S. -- respond to the combined state and federal pressure will tell us a lot about the shape of immigration politics to come. Unlike Washington and Sacramento, which are thousands of miles apart, the distance from the Texas state capitol to Austin City Hall is only about a mile. It's close enough for hand-to-hand combat.
This column does not necessarily reflect the opinion of the editorial board or Bloomberg LP and its owners.