Russia
A Stubborn Putin Foe Refuses to Be Silenced
Alexei Navalny has been disqualified from running for president in 2018, but he insists he's running anyhow.
by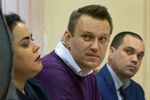 To be a politician in today's Russia without turning into a Kremlin puppet is to practice a kind of desperate, dogged optimism. Alexei Navalny has mastered the mixture perfectly. If political dividends accrued to those who kept in the market, then his future would be rich indeed. Unfortunately, in Russia the opposite can be the case.
Navalny is the only person so far to launch a formal bid in the run-up to the 2018 presidential election. On Wednesday, a court in the city of Kirov, about 600 miles northeast of Moscow, convicted him of stealing 16 million rubles ($270,000) worth of lumber from a state-owned company called Kirovles. This was a kind of legal Groundhog Day. He'd already been found guilty of the same offense by the same court. The first trial took place in 2013, just as Navalny was running for mayor of Moscow. He received a suspended sentence and a fine -- and went on to win 27 percent of the vote, an incredible result for a candidate without Kremlin support or access to media. That campaign is still considered a model exercise in public politics in a country that has eliminated it. 
The 2013 case against Navalny was crudely fabricated. The prosecution claimed that the Navalny, an anti-corruption activist, used his influence as an unpaid adviser to the Kirov regional governor to force Kirovles to sell lumber at a loss to a friend, Pyotr Ofitserov. Navalny and Ofitserov argued that Kirovles sold the lumber at its regular prices, but the judge wouldn't even admit the evidence they provided. No wonder, then, that the European Court of Human Rights ruled a year ago that the verdict violated human rights. "The Russian courts had found the applicants guilty of acts indistinguishable from regular commercial activities," the court said.
Though Russia has recently rebelled against following every decision of the European court, the Russian Supreme Court took heed and sent the case back for a retrial. This created a window of opportunity for Navalny. In Russia, people with felony convictions are barred from running for public office. Navalny had been allowed to complete his mayoral race while his appeals ran their course, but after the sentence became final, he was confined to running his nonprofit, the Anti-Corruption Foundation, and blogging about its own corruption investigations of President Vladimir Putin's cronies and political allies.
Navalny took his opportunity seriously, announcing his candidacy in the 2018 election -- something even Putin, widely expected to run for a fourth presidential term, hasn't done yet. Navalny's program, based on the familiar anti-corruption theme, appeared to owe some of its rhetoric to Donald Trump and the European populists who are doing unusually well in the polls this year. There was even an anti-immigrant slant: Navalny has long called for entry visas for the nationals of Central Asian nations, which supply much of Russia's cheap migrant labor. Navalny's main goal, however, is to dismantle Putin's overly centralized, corrupt system, freeing up Russian business and creativity from the current total subjugation by the state. 
Despite Putin's 82 percent approval rating, the Kremlin clearly doesn't want Navalny in the race. Navalny, with his negligible name recognition outside the big cities, is apparently seen as too much of a threat. Therefore, during the retrial, the judge often disappeared in his chambers without obvious reason; like the judge in the 2014 trial, he wouldn't admit proof that the lumber deals were done at prices normally charged by Kirovles.
"The dock is a strange place from which to make political statements," Navalny said in his last word at the trial, "but perhaps there is no other place for an honest person in today's Russia." The judge interrupted him, saying, "Keep to the subject of this trial." "This is the subject of this trial," Navalny retorted -- and went on to say he would ignore all warnings against participating in politics and continue his campaign. 
"We can all live better and be wealthier because we have all we need, oil, gas and human capital," Navalny told the court. "We have money coming out of the earth. Where is it going? That's what I'm trying to tell you, and that's what you are afraid to hear for some reason. But I will not stop."
The prosecution asked for a five-year suspected sentence, and the judge is likely to comply. Continuing the campaign means, in practical terms, going through with the appeals and then filing suit again at the European Court of Human Rights. Navalny hopes it will rule again, on the same grounds as last time, before the election, which is likely to take place in March 2018. 
There are other ways to keep Navalny in the race legally, his 2013 campaign manager has suggested. But, as he also acknowledged on Facebook, it's ultimately political; the Kremlin appears to have made the decision against letting Navalny run.
Navalny, a dogged fighter and one of a handful of Putin opponents who haven't left the country or given up on fighting the regime, refuses to accept defeat even though it's all but certain. That's a disposition Navalny shares with Soviet dissidents such as Andrei Sakharov, who resisted the regime when there was no light at the end of the tunnel. Some of them lived to see that light, and that was their reward. Navalny wants more -- a chance to govern. And he's stubborn enough to get a crack at it eventually.
This column does not necessarily reflect the opinion of the editorial board or Bloomberg LP and its owners.