Share the View
The Most Underrated Economy in the World
A daily digest of opinions and analysis from Bloomberg View.
by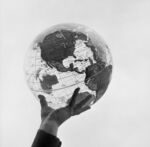 The Country That's Doing Better Than Most People Think
Stocks are up, growth is rising, poverty is falling and retail is booming: Tyler Cowen welcomes you to Pakistan, a pleasant surprise in South Asia and his pick for the most economically undervalued country of 2017.
The Chaos Candidate Becomes the Uncertainty President
Markets rallied after the election, but since then investors have realized they have no clue what to expect from Donald Trump. Barry Ritholtz says the president's main achievement is injecting uncertainty into the markets.
Get Ready for a Bear Market
Regardless of what Trump does, a downturn is coming sooner or later. The good news is that that investors can make real money just by surviving the disruption. Ben Carlson offers tips on how to prepare.
Trump's Ethics Plan Is Worse Than You Thought
The president refuses to separate Trump Tower deal-making from White House policy-making, and he's setting a bad example for the children — you know, the ones who advise him and run his 'blind trust.' Tim O'Brien takes stock of Trump's apparent (and sometimes blindingly obvious) conflicts of interest.
Donald Trump Is the Singularity
But wait — what if the U.S. isn't helmed by an ethically compromised reality TV star, but instead by a machine? Cathy O'Neil makes a strong case that the country has the equivalent of a dynamic neural network running its government.
Ritholtz's Reads
(Read Barry Ritholtz's full daily news roundup.)
Bloomberg Gadfly 
(Read more from BV's sister site for fast business commentary.)
Get Share the View every morning in your inbox. Subscribe here.
To contact the author of this story:

Before it's here, it's on the Bloomberg Terminal.
LEARN MORE