Politics
Most Presidents Speak on Campus. Trump? Don't Hold Your Breath.
No president has spawned a protest movement so fast. It's limiting his reach (and could provoke a backlash).
by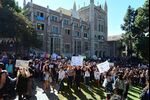 In the first two years of his presidency, George W. Bush delivered commencement addresses at Yale, Notre Dame and Ohio State universities. President Barack Obama also spoke at Notre Dame during his first couple of years in office, as well as at Michigan and Carnegie Mellon.
Don't look for President Donald Trump this spring on these or most other well-known campuses. He would face disruptive protests that would extend beyond the halls of academe.
The threat of vocal protests limited public appearances for a few other presidents, including Lyndon Johnson and Richard Nixon. But not until they'd been in office for years.
For Trump, with his proposed immigration ban and penchant for racial, ethnic, sexist and other insults, the phenomenon has occurred almost instantly.
Unfriendly venues appear to be spreading. Over the weekend there were 3,000 protesters at Trump's Mar-a-Lago estate in West Palm Beach, Florida while he was there attending a Red Cross benefit dinner. Last week he canceled an appearance at a Harley-Davidson plant in Milwaukee because of planned demonstrations.
Efforts are underway to organize a national worker's strike later this month against the president's policies. There's even an online calendar for anti-Trump rallies being scheduled in the months ahead.
Some Democrats fear that the anti-Trump protests could provoke a backlash. A scheduled speech by a Trump-supporting white nationalist was called off last week at the University of California at Berkeley when violence erupted. Trump then threatened to cut off federal assistance to the university if it didn't respect "free speech."
Nixon turned demonstrations against him to his political advantage, depicting protesters as fringe radicals. He won reelection in 1972 by the largest popular-vote margin of any presidential contest after World War II. (Then the Watergate scandal broke, and less than two years later he resigned.)
Presidents traditionally speak each year at one of the military service academies. Trump, who loves to identify with the military, will surely do so. These are safe havens. But it's doubtful he'd be welcome at most other prestigious institutions, meaning he's most likely to deliver a graduation speech at a conservative Christian school.
What may prove especially grating to Trump is the hostility toward him at the University of Pennsylvania, his alma mater and that of three of his children. Many students there express embarrassment over their famous alumnus; the student newspaper constantly criticizes him and his policies. On Jan. 21, a group of Jewish and Muslim students at Penn shared a bus ride to Washington to join the national women's protest against Trump.
To contact the author of this story:
Albert R. Hunt at ahunt1@bloomberg.net
To contact the editor responsible for this story:
Jonathan Landman at jlandman4@bloomberg.net
Before it's here, it's on the Bloomberg Terminal.
LEARN MORE