Prophets
Markets Digest Trump Trade With Side of Protectionism
Investors are realizing that fiscal stimulus is still a long ways away.
by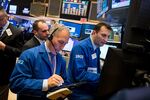 With the Republican election sweep in November, the Trump reflation trade commenced with a vengeance. Stocks leaped, commodities rallied and Treasury bond prices plummeted as investors anticipated instant deregulation, tax cuts and fiscal stimulus that would generate rapid economic growth. At the same time, they believed that massive Treasury bond issuance to finance big infrastructure spending and military outlays would flood the market, pushing up long-term interest rates.
I continue to foresee huge fiscal action in response to voters who are frustrated at no growth in the purchasing power of most for more than a decade. But a Congress with many Trump adversaries stands between the new administration and big new spending. Furthermore, infrastructure money is authorized by Washington but actually spent by the states. And that involves environmental impact statements, zoning changes, contract specifications, etc. Two years after money was allocated for "shovel-ready" projects in 2009, only 30 percent had been spent.
Fiscal stimulus is likely to be big enough to push real gross domestic product growth to 4 percent from the 2.1 percent annual rate it's averaged since the recovery commenced in mid-2009, but not for two to three years. Also, the Federal Reserve, like other major central banks, tacitly admitted that monetary policy is impotent in promoting economic growth by calling for fiscal action. So it's unlikely the central bank will allow long-term rates to leap higher and offset the effects of government spending. The Fed will simply buy the additional bonds the Treasury Department will be issuing: a form of helicopter money.

So while fiscal action is on hold, Trump is relatively free to pursue the platform that got him elected: protectionism. In the campaign, he blamed the lack of income growth for middle Americans on imports and immigrants. He seems to believe he's the world's best negotiator and that his successes in business will carry over to the foreign arena. Time will tell. Meanwhile, Trump is escalating the ongoing trade war with China, as I spelled out in my Jan. 26 column, moving ahead on plans to build a wall on the Mexican border and putting a hold on immigration, singling out seven troubled Muslim nations.
As investors realize that it will be fiscal stimulus later, but protectionism now with unknown extents and possible global trade war implications, they are reappraising the markets landscape. In the past month, Treasury bond yields have been dead flat, even with growing conviction that the Fed will continue to raise the federal funds target rate. Crude oil prices have leveled despite unexpectedly high compliance with the production cuts announced by OPEC. And stocks have moved sideways, retreating after the Dow Jones Industrial Average's much ballyhooed breakthrough to 20,000. The dollar has weakened.

Recent market actions suggest investors jumped the gun after the election. I look for:
A robust U.S. dollar with the euro falling below parity and the yen weakening to perhaps 150 per greenback. The Chinese yuan may see comparable declines.
Rising U.S. Treasury prices, with my long-held targets of a 2 percent yield for the 30-year bond and 1 percent for the 10-year note. They will benefit from prospective deflation and their haven advantage in a sea of global uncertainty. Also, Treasury yields are significantly above those of almost every other developed country. So foreign investors gain a nice yield spread with Treasuries plus a currency translation gain as the dollar appreciates.
Falling crude oil and other commodity prices in an ongoing world of excess supply. History shows that real commodity prices trend downward except for brief spikes during wars and supply disruptions.
Uncertain equity prices. They are expensive in relation to corporate earnings, and those earnings are not based solidly on revenue gains but on cost-cutting, which appears to have run its course. Nevertheless, equity bull markets don't die of old age, and the current one may continue until terminated by a financial shock or by central bank restraint.
Watch protectionism. If it escalates, all of these strategies will be enhanced.
To contact the author of this story:
Gary Shilling at agshilling@bloomberg.net
To contact the editor responsible for this story:
Robert Burgess at bburgess@bloomberg.net
Before it's here, it's on the Bloomberg Terminal.
LEARN MORE