Share the View
Three Cheers for the Rule of Law!
A daily digest of opinions and analysis from Bloomberg View.
by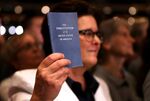 Trump's Unworthy Attack on a Federal Judge
When Donald Trump's dubious travel ban ran into legal obstacles this weekend, he responded as he often does — with a barrage of angry tweets. In one sense, it's no surprise — belittling people on social media is just what Trump does. But Noah Feldman warns that by challenging the very legitimacy of a judge he disagreed with, the president could pose a real threat to the separation of powers.
Trump Isn't the Only Septuagenarian Staying on the Job
At 70, Trump is the oldest man ever inaugurated U.S. president — but as unique as he is in history, he's got plenty of company in the modern U.S. labor force. Justin Fox considers why nearly one in five Americans over 65 are either working or looking for a job.
Filibusters, Slavery and the Modern Pirates of the Senate
As any seventh-grader can tell you, the term "filibuster" sounds — let's be honest — pretty silly. How did today's political blockades get saddled with such an extravagant name? To understand, Stephen L. Carter explains, you must look back to the buccaneers of the 18th century and the coup-plotters of the early 19th.
Hey, Republicans. Where's the Deficit Dudgeon?
Once upon a time, fiscal hawks demanded government live within its means. But that was before the age of Trump. Now the self-proclaimed "king of debt" is in charge, and Albert R. Hunt hears conservatives singing an awfully different tune.
The Best Picture for What America Needs Right Now
"Hidden Figures," the story of three African-American women working for NASA in the early days of the space race, is a long-overdue celebration, Virginia Postrel says — both of the trio's accomplishments, and of the America they helped create.
Ritholtz's Reads
(Read Barry Ritholtz's full daily news roundup.)
Get Share the View every morning in your inbox. Subscribe here.
This column does not necessarily reflect the opinion of the editorial board or Bloomberg LP and its owners.