Share the View
Unicorns, Guns and Normalcy
by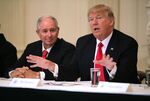 Obama Should Thank Trump for Putting Iran on Notice
National security adviser Michael Flynn put Iran "on notice" this week in response to its ballistic missile test, before President Donald Trump imposed new sanctions Friday. The alarm over Flynn's statement was understandable, says Eli Lake, but a little unpredictability from Trump could save the nuclear deal and avert war in the Middle East.
Snapchat's Performance Doesn't Match IPO Hype
The parent company of Snapchat values itself at around $25 billion. But why, when the messaging app is less versatile, suffers from uneven global expansion and has some serious competition? It's unicorn hype at its grandest, Leonid Bershidsky says.
Trump's Illusion of Unusual Action
It may seem that the president has gotten off to a fast start, pushing through a flurry of executive orders and nominating a Supreme Court justice. But it turns out, says Jonathan Bernstein, that Trump's first couple of weeks have been ... perfectly normal.
Guns for the Mentally Incompetent
Despite broad support for background checks to improve gun safety, a new bill that would roll back a rule to prevent the mentally ill from obtaining guns got the go-ahead from the House of Representatives. But as the Editors point out, doing anything less would go against everything the NRA stands for.
Ritholtz's Reads
(Read Barry Ritholtz's full daily news roundup.)
Bloomberg Gadfly 
(Read more from BV's sister site for fast business commentary.)
Get Share the View every morning in your inbox. Subscribe here.
To contact the author of this story:

Before it's here, it's on the Bloomberg Terminal.
LEARN MORE