Prophets
Trump's Hard Line on Trade Puts Fed in a Bind
The central bank could face a shock from supply, not from demand.
by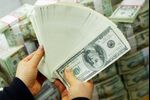 The Trump administration's antagonistic approach to some countries could be putting monetary policy on a collision course with international trade and financial policy rather than fiscal policy as initially expected. Instead of facing a demand shock, the Federal Reserve could be facing a supply shock.
Speculation on fiscal policy -- and a possible monetary offset -- heightened in the weeks after the Nov. 8 election. The basic story is that with the economy close to full employment, a deficit-financed surge in demand would be inflationary, forcing the Fed to offset additional spending with a more aggressive pace of tightening. This presumably would run counter to President Donald Trump's economic ambitions and set the stage for a showdown between the Fed and the White House.
But in this narrative the external sector always offered a partial way out of this conundrum. Faster growth would trigger a rise in the dollar, lowering the price of imported goods and thus shifting rising domestic demand to foreign producers. Lower prices for imported goods would temper inflationary pressures, taking some burden off the Fed. In other words, an expanding U.S. trade deficit would allow a surge in domestic demand without a dramatic increase in rates.
This was only a partial way of avoiding conflict between the White House and the Fed because the rising dollar would weigh on U.S. manufacturing. Allowing a rising trade deficit would support greater U.S. domestic demand, but at the cost of manufacturing jobs. Trump ran, in part, on his promise to protect -- and add to -- those jobs.
And he seems ready to try and make good on that promise. But that means cutting off the U.S. from the relief valve of international trade. Trump's top trade person, Peter Navarro, who is leading the National Trade Council, wants to repatriate international supply chains onto U.S. soil. Doing so, however, would take time, and we would expect higher inflation during that period. In addition, Note too that the decline in durable goods prices has been relentless as those supply chains expanded in the post-North American Free Trade Agreement world:

We could expect the opposite if we try to unwind that universe. And higher inflation would push the economy right back to the fiscal offset story, with the Fed raising rates to temper domestic demand, but this time with less room to push that demand overseas. Thus, the central bank would need to more aggressively lean against any domestic demand surge.
Moreover, higher rates could translate into an even stronger dollar. And here again monetary policy would run afoul of evolving trade policy, which appears to be pushing for a weaker dollar. Navarro said the euro was "grossly overvalued," and Trump accused the U.S. of sitting by like a "bunch of dummies" while China and Japan manipulated their respective currencies down. Could direct intervention to weaken the dollar be in our future?
But a weaker dollar would further fan inflationary flames and induce the Fed to tighten further. That, however, would place upward pressure on the dollar, again thwarting the administration's plan.
Ultimately, it is best to model the administration's evolving trade, dollar and immigration policies as a supply-side shock. That means a combination of weaker growth and stronger inflationary pressures, putting central bankers between a rock and a hard place. And the shock would probably be more severe than those associated with recent commodity price spikes -- the Fed could look through those as temporary and thus requiring little response. A major shift in external policy, in contrast, would likely have more persistent impacts. The Fed would need to respond in kind.
Considering the direction of administration policy, I suspect that a year from now the Fed will be wishing for the "problems" of a fiscal-induced demand side shock. The reality could be a much greater challenge.
To contact the author of this story:
Tim Duy at duy@uoregon.edu
To contact the editor responsible for this story:
Max Berley at mberley@bloomberg.net
Before it's here, it's on the Bloomberg Terminal.
LEARN MORE