Share the View
Neil Gorsuch and the Supreme Court: What You Need to Know
A daily digest of opinions and analysis from Bloomberg View.
by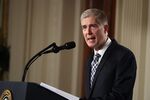 Trump Chose His Justice. Now, Will He Ever Be Confirmed?
Not many people were surprised when Donald Trump nominated federal judge Neil Gorsuch to the Supreme Court last night; in fact, Noah Feldman predicted it several months ago. The real question is: Will Democrats, still smarting from Republicans' refusal to hold hearings on Obama nominee Merrick Garland, play ball?
Let's hope the answer's yes. The Bloomberg View editorial board urges Senate Dems to give Gorsuch a fair hearing — not because Republicans deserve the courtesy, but because democracy demands it — while Feldman describes Gorsuch as a conservative that liberals could learn to live with. (On a darker note, Stephen Carter sees the reality-TV trappings of Trump's announcement as part of a larger assault on the dignity of the court.)
The Kansas Model for Voter-Fraud Bluffing
If Trump wants a federal investigation into election fraud, perhaps he should consult with one of his campaign advisers, Kris Kobach. The Kansas secretary of state launched a similar probe in 2015, and as Francis Wilkinson notes, he turned up a whole lot of nothing.
ETFs Explain How Radical Ideas Get Normalized
Just like exotic investments, out-there opinions are just a click away — and as exchange-traded funds continue to rock the financial world, Joe Weisenthal sees a striking political parallel.
Another Small City Loses Another Corporate Headquarters
Caterpillar Inc. — long the pride of Peoria, Illinois — is following the money (and the people who have it) to Chicago, where it plans to open its new global headquarters. Although Caterpillar isn't abandoning Peoria, Justin Fox views the move as a microcosm of a larger trend that's pulling the U.S. apart.
Ritholtz's Reads
(Read Barry Ritholtz's full daily news roundup.)
Bloomberg Gadfly 
(Read more from BV's sister site for fast business commentary.)
Get Share the View every morning in your inbox. Subscribe here.
To contact the author of this story:

Before it's here, it's on the Bloomberg Terminal.
LEARN MORE