Prophets
Markets Are Right Not to Fall in Line With Fed's Dots
Traders and central bankers aren't in alignment, as both await Trump's fiscal stimulus plans.
by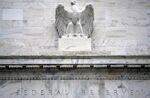 No one expects the Federal Reserve to raise interest rates this week when policy makers meet. It's doubtful that they do anything at their next meeting in March, either. It's only down the road, toward the end of the year, that the odds of multiple hikes as measured by futures on the federal funds rate shoot up.
Even then, traders are pricing in just two increases, which doesn't quite line up with the Fed's own ``dot plot'' indicating three are in the cards. It's not a surprise that the market and central bank aren't in alignment: the Fed has often been too optimistic about growth and the removal of accommodation following the financial crisis. Therefore, it's appropriate for the market's more cautious view.
That's not to say this week's meeting won't be a nonevent. Traders will be closely parsing the statement that accompanies the Fed's decision for clues as to whether policy makers are just as confident in their outlook as they were in mid-December when they decided to raise rates by a quarter of a percentage point.



Although Chair Janet Yellen recently said the next hike depends on the economy "over coming months," it will be interesting to see what policy makers will be curious or concerned about as the Trump presidency unfolds. Even in the most optimistic scenario from a stimulative standpoint, fiscal measures take a while to have an impact. It's probably not reasonable to expect much stimulus until later in the year, especially for any spending plans.
One development they referred to several times and with increased frequency is the stronger dollar and weak global demand. This clearly has disinflationary implications, opposite of what policy makers want to achieve.


Look for the consumer price index to bounce further in coming months thanks to, at the very least, base effects and the contribution from higher oil prices, which dovetail with bearish seasonal tendencies bond yields, by the way. That, along with the low level of unemployment, gives the Fed ample cover to hike later in the second quarter and beyond.
Base effects, the consequence of abnormally high or low levels of inflation that distorts headline inflation numbers, are limited by their very nature; the question is whether gains in inflation will come from non-energy areas. Consider that the latest read on the core personal consumption expenditures index (the Fed's preferred measure of inflation) held steady at 1.7 percent in December, still below their target of 2 percent.

But with two hikes priced in, it will take more data and understanding of fiscal policies to price in, say, three or more. Base effects will subside and the dollar's strength should serve as an inhibitor to a continued rise in inflation, leaving it to the incoming data to determine whether the Fed will be provoked further.
This column does not necessarily reflect the opinion of the editorial board or Bloomberg LP and its owners.