Share the View
Trump's Foolish Travel Ban
A daily digest of opinions and analysis from Bloomberg View.
by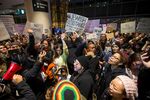 As Unwise as It Is Un-American
On Friday, Donald Trump signed an executive order banning refugees and nationals from seven largely Muslim countries from entering the U.S.; 48 hours later, immigration authorities and even aides to the president still weren't entirely clear on what it meant. The Bloomberg View editorial board says the order fails as a security measure — in many ways, it leaves the U.S. more vulnerable to terrorist attack — while Mohamed El-Erian catalogs the ways it harms America's moral authority, values and standing in the world.
Rule of Law 1; Trump 0.
If there's anything the legal system won't stand for, it's executive overreach, as several federal judges made clear in a flurry of rulings soon after Trump announced the ban. Noah Feldman says the courts' rapid-fire response shows that the man who broke all the rules on his way to the White House won't be allowed to govern that way. 
The World's Least Enviable Job: Indian Finance Minister
Have a moment of pity for Finance Minister Arun Jaitley, who, amid economic chaos, will present his fourth annual budget to India's Parliament on Wednesday. The Bloomberg View editorial board urges the government to hold fast to its fiscal targets despite the demonetization shock, while Mihir Sharma says Jaitley's top priority should be easing the fears of long-term investors.
The Stalemate Breaks for Bond Traders 
As fast-money hedge funds and patient investors vie for control of the Treasury market, Scott Dorf explains why the balance of power looks set to shift in the coming week.   
Ritholtz's Reads
The man who kicked off the biotech revolution (Nautilus)
Trump knows you better than you know yourself (Antidote Zine)
Nafta and other trade deals have not gutted American manufacturing, period (Vox)
(Read Barry Ritholtz's full daily news roundup.)
Get Share the View every morning in your inbox. Subscribe here.
This column does not necessarily reflect the opinion of the editorial board or Bloomberg LP and its owners.