Prophets
The Stalemate Breaks This Week for Bond Traders
Fast money hedge funds tee off against patient investors for control of Treasury market.
by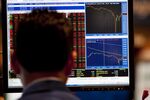 Don't let the benign performance of the bond market so far this year fool you. Beneath the surface there's a battle raging between, on one side, hedge funds and other leveraged gamblers who make their living speculating in the Treasury market and, on the other, the more patient investors such as mutual funds, insurance companies and pension managers.
For now, there's a stalemate, which is why his week may prove pivotal. Federal Reserve policy makers meet on Wednesday to decide on monetary policy. Then on Friday the Labor Department will release its monthly jobs report.
Although there is no transparent view into the opaque world of bond trafficker positions, there are useful clues. The most popular is the weekly report put out by the Commodities Futures Trading Commission. It showed record bets this month on higher interest rates. At the other end of the spectrum is the weekly Stone & McCarthy survey, which shows that longer-term investors are neither overweight nor underweight on Treasuries relative to their benchmarks.

It's not hard to understand the reasons for the bears' raid on the U.S. rate structure. They built their positions through the second half of 2016 as the Brexit scare proved short-lived and the third quarter turned out to be a barn-burner for the U.S. economy, with gross domestic product growing at a robust 3.5 percent annualized pace.
That made the Fed more confident that disinflation was no longer a threat and that their 2 percent target for growth in consumer prices would soon be met. Policy makers raised rates in December for the second time in a year, and boldly forecast three increases for 2017. They are now even starting to talk about shrinking the Fed's crisis-swollen, $4.5 trillion balance sheet that has been such a boon to the bond market.
It's no wonder that yields on the benchmark 10-year Treasury rose as high as 2.64 percent in December, up from the year's low of 1.32 percent in early July.

Now, the fast money is relying on a supply-side turbo boost for growth from the Trump administration's proposed spending program, which is something their equity counterparts appear equally confident will happen. In interviews last week Trump hinted that he is less concerned with toeing the traditional Republican deficit-reduction party line and instead wants to boost defense spending, build a wall along the border with Mexico and rebuild the country's decaying infrastructure. None of that will occur without more borrowing, especially if he follows through on promises to slash corporate taxes and leave Social Security and Medicare alone. 
So, while the bears lumbered into 2017 emboldened like never before, the "real money'' investors took a "too-much, too-soon'' stance. JPMorgan Chase & Co.'s weekly investor sentiment largely echoed Stone & McCarthy's, showing no significant movement in positioning despite the rise in yields. Yes, these surveys are anecdotal and many managers shift their positions around between the surveys and their publishing dates, but their more constructive views are borne out by CFTC data indicating that they have huge long positions in five- and 10-year Treasury futures. 

For now, the patient investors appear to be winning out. The selloff has slowed and yields have stabilized. The bond market ended last week little changed, even though the Treasury Department dumped $103 billion of short- and medium term debt on the market.
Fed Chair Janet Yellen won't be holding a press conference after this week's policy meeting, leaving traders and investors to parse the post-meeting statement for clues as to the path of rates. Any hints that a March rate hike is under serious consideration would make the hedge funds very happy, giving them the green light to raise their bearish bets even more.
This column does not necessarily reflect the opinion of the editorial board or Bloomberg LP and its owners.