U.S. Economy
The Economy Trump Inherited, in Two Charts
There's room for improvement, but it's in pretty good shape.
by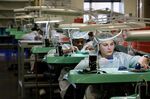 What economic legacy is President Donald Trump inheriting from Barack Obama? The preliminary data are in, and it's not looking bad at all.
In its latest report on gross domestic product, the Commerce Department estimated that the U.S. economy grew at an annualized rate of 1.9 percent in the last three months of 2016 -- a performance that, though weaker than expected, included a long-awaited gain in business investment. That brings the annualized average for Obama's presidency to 1.8 percent -- less than under any of the previous 10 presidents save George W. Bush, but still decent given that he inherited an economy on the verge of depression. Here's a chronological comparison:
Perhaps more important for Trump, the economy seems to have ample room to keep growing. As of December, the price index for personal consumption expenditures -- excluding volatile food and energy -- was up 1.7 percent from a year earlier, below the Federal Reserve's 2 percent target. This subdued level of inflation suggests that growth remains below potential. Here's a comparison to the last years of the past 10 presidencies:
So how can Trump "create a dynamic booming economy?" Probably the biggest challenge is productivity. Workers' output per hour has grown at an anemic pace for the past six years -- another way of saying that broader growth hasn't kept up with job gains. Some economists believe that this is inevitable, that the technology-driven gains of the past cannot be repeated. Others, though, think that a well-targeted burst of government spending could boost wages and thus spur companies to make productivity-enhancing investments, which would allow the economy to grow faster without stoking too much inflation.
Judging from his promise to invest in roads, bridges and other infrastructure, Trump agrees with the latter camp. Here's hoping he's right and can deliver (and doesn't embark on a damaging trade war with Mexico or anyone else). Still, it's important to recognize that his starting point is much better than what his predecessor faced, and nothing like the "carnage" he has described.
To contact the author of this story:
Mark Whitehouse at mwhitehouse1@bloomberg.net
To contact the editor responsible for this story:
James Greiff at jgreiff@bloomberg.net
Before it's here, it's on the Bloomberg Terminal.
LEARN MORE