Prophets
The Wrong Reasons to Worry About Gas Prices
U.S. consumers' use of energy has been in decline since the 1970s.
by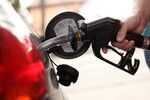 The price of oil has pretty much doubled from a year ago, raising questions about whether the increase will be a hit to consumers and add to inflation pressures. This isn't so far-fetched. At one time, lower oil prices -- we really mean gas prices -- conformed to an uptick in consumer spending in the form of at-the-pump tax relief. The inverse held true; higher gas prices were an effective tax.
Alas, this perspective and the potential correlation has weakened, which is to say that lower or higher oil/gas prices have less impact on gross domestic product and, to a degree, on inflation. In short, there are some good reasons to be concerned about higher energy prices. A "tax" on the consumer shouldn't rank too high as a risk.
In a curious twist of fate, as the U.S. becomes more of a fuel producer, lower energy prices could have an adverse economic impact. The windfall to the consumer is gone and has been replaced by stress on the energy sector. Granted, the latter is not a big employer, but in terms of growth it was perhaps the single largest contributor to business investment in the GDP equation until the oil bust of 2014.
The main question here involves our use of energy. There is a concept called "Energy Intensity," which measures the amount of energy in British Thermal Units for each dollar of GDP. The measure, produced by the U.S. Energy Information Agency, has been in steep decline since the 1970s and, according to the EIA, will decline further in coming years. Here are some numbers: In 1974, we consumed about 10,000 BTUs for every dollar of GDP. That's in constant prices (adjusted for inflation). That figure was more or less steady from the 1950s to the 1970s. But things changed in the late '70s, and that figure has been dropping ever since.

The latest data, from the end of 2014, showed that number had fallen to 3,880 BTUs. A few years ago, EIA projected usage would drop by almost half by 2040. This wasn't just happening in the U.S., either. In July, the EIA noted that energy intensity had dropped 32 percent as a world average from 1990 to 2015, 32 percent in OECD countries and 40 percent in non-OECD countries.

There are many reasons for this decline. First, the economies of the U.S. and Western Europe are far less based on manufacturing, which used energy rather more than economies based on services. Another reason is that we are more fuel-efficient. Take cars. In 1990, the average car used 28 miles per gallon and light trucks burned 20.8 mpg. By 2015, those figures were 36.4 and 26.3, respectively, according to Bureau of Transportation statistics. There has been a particularly sharp ramping-up in fuel efficiency in last ten years. Recognizing the possibility of looser regulations under a Trump administration, the EPA did reaffirmed in December that the goal is for a 54.5 mpg target by 2025.

Also, we seem to be driving less. The EIA indicated that as of 2014, the average annual mileage of a vehicle had declined to 11,621 miles from more than 12,000 from about 1996 to 2006. Think about it: We have better fuel efficiency, and people are driving less. I'm tempted to suggest that more urban youth are riding bicycles around Brooklyn, and workers in general are moving back to cities, while aging baby boomers commute less as they wind down or fully retire.
To contact the author of this story:
David Ader at dader2@bloomberg.net
To contact the editor responsible for this story:
Max Berley at mberley@bloomberg.net
Before it's here, it's on the Bloomberg Terminal.
LEARN MORE