view
The 'Trump Rally' Means Less Than You Think
A daily digest of opinions and analysis from Bloomberg View.
by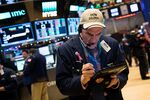 Dow 20,000 Is No Vote of Confidence in Trump
Don't believe the hype about the Dow's record-high closing on Wednesday: The president's policies may benefit investors, the Bloomberg View editorial board argues, but that's no guarantee they'll create broader economic growth. Meanwhile, finding the fuss over "20,000" annoyingly arbitrary, Justin Fox examines some of the more interesting benchmarks in the Dow's history: What happened when it hit pi (3,141.59), or the diabolical 666?
Markets Aren't Kind to 'Alternative Facts'
Living in the reality you want, and not the one you've got, can be dangerous for your wealth. Barry Ritholtz lays out the three-step process that subjective-reality investors follow (generally, off a cliff).
So You Want Infrastructure? Great! Just One Problem... 
Donald Trump wants to rebuild America. Donald Trump also opposes free trade. Uh-oh! Unless somebody discovers giant deposits of zinc, rare-earth metals and other raw materials in the heartland, Shelley Goldberg sees trouble on the horizon.
Don't Write Off Behavioral Econ Yet 
Explaining irrational human actions with theory turns out to be really, really hard — but Noah Smith says researchers are still doing heroic work melding psychology with macroeconomics.
Trump Can't Kill the Trans-Pacific Partnership
The TPP is dead; long live the TPP! Mihir Sharma says the most important principles of the pact will live on in future free-trade deals.
Ritholtz's Reads
America's digital dumping ground (Reveal)
Renegotiating Nafta: Five points to keep in mind (Financial Times)
Wall Street tries to kill a rule protecting you from bad investing advice (Time)
(Read Barry Ritholtz's full daily news roundup.)
Bloomberg Gadfly 
(Read more from BV's sister site for fast business commentary.)
Get Share the View every morning in your inbox. Subscribe here.
To contact the author of this story:

Before it's here, it's on the Bloomberg Terminal.
LEARN MORE