Editorial Board
Trump's First Trade Deal Should Be With Japan
With the Trans-Pacific Partnership off the table, America's priority should be a bilateral trade pact.
by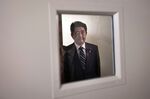 Even as he puts a stake through Barack Obama's ambitious, 12-nation trade pact with Asia, President Donald Trump has signaled he's willing to strike narrower bilateral deals in the region. His first one should be with Japan.
To be clear, any bilateral deal would be far inferior to the Trans-Pacific Partnership, which would have not only lowered barriers to trade but also raised labor and environmental standards, forced domestic economic reforms and encouraged new supply chains linking the U.S. to the world's fastest-growing region. But given that the U.S. and Japan are two of the world's three biggest economies -- their combined GDP accounts for more than 75 percent of the total among TPP nations -- and their combined trade in goods and services is close to $200 billion a year, a deal between them could at least calm fears that the world is lurching toward protectionism.
What's more, Japan is a resolute U.S. ally and champion for the liberal order that has underwritten American prosperity for decades. Japan maintains good relations -- and influence -- with countries across the region, including the Philippines and others whose affection for the U.S. can fluctuate. These governments want investment, expertise and equipment from Japan at least as much as they want it from China. If the U.S. under Trump steps back from engagement with Asia, then Japan, along with India and Australia, will need to be counted on to defend an open, rules-based order.
The TPP was set to strengthen the Japanese economy. Prime Minister Shinzo Abe made several painful concessions, in part because he hoped the deal would help him crack open some of Japan's most ossified sectors, including agriculture. Such reforms are critical to reviving economic growth -- and thus ensuring that Japan has the resources to help provide security in Asia.
Because much of the hard bargaining with Abe's government has been done for the TPP, sorting out the details of a new deal should be relatively straightforward. Certain aspects of the pact -- those dealing with state-owned enterprises, for instance, or labor and environmental standards that both countries already meet -- could be cut or simplified. If the original deal is largely preserved in bilateral form, it would confer many of the TPP's benefits for both sides, while keeping open the possibility of reviving a full TPP at a later date. The other signatories could still move ahead without the U.S. even now.
The alternative is to abandon Japan, weaken Abe and send a message to other allies that it doesn't pay to take risks on behalf of the U.S. With the stroke of a pen, Trump has already done much damage to U.S. trading relations with Asia. He should now repair what he can.
--Editors: Nisid Hajari, Mary Duenwald
To contact the senior editor responsible for Bloomberg View's editorials: David Shipley at davidshipley@bloomberg.net .
Before it's here, it's on the Bloomberg Terminal.
LEARN MORE