Stocks
Trump Nominee's Stock Trades Flunk the Smell Test
Representative Tom Price invested in health-care companies, then legislated on their behalf. Now he's up for health secretary.
by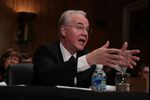 Twenty-two years ago, when I joined the staff of Fortune, one of the first things I had to do was liquidate most of my portfolio. The magazine allowed its journalists to own stocks, but not in companies they might write about. As I was a generalist who could conceivably write about any big company, that meant I had to shed all my big-cap stocks.
A decade later, when I became a business columnist at the New York Times, I discovered a similar set of rules. And here at my new employer, Bloomberg, there are long-standing trading restrictions. Among other things, Bloomberg journalists (and other employees) can't sell stock at a profit within 30 days of the purchase and can't trade securities "while in possession of material non-public information."
All business journalists hold proprietary information, of course: it is the knowledge that they are going to write about a particular company. A tough-minded investigative story has the potential to push the company's stock down, at least in the short term, while a glowing story about a company's future might drive the stock up.
These trading restrictions, which exist at every reputable news organization that covers business, are intended to avoid both conflicts of interest and the appearance of conflicts. If I were to buy a mid-cap stock, write a positive article about the company two days later, and then sell the stock when it bumped up, I would be doing something that could be legitimately described as insider trading. (Whether a prosecutor would try to make such a case is difficult to know, given the uncertain state of the law.) But even in a more benign situation -- where I wrote about a company that was a long-term holding in my portfolio, and didn't sell it afterwards -- I have still given readers a reason to question my motives. 
Not long after Representative Tom Price of Georgia was nominated to be President Donald Trump's Secretary of Health and Human Services, stories began to emerge about some suspicious stock trades he had made. In one case, Price, a former orthopedist who sits on an important health subcommittee, bought shares worth between $1,000 and $15,000 in Zimmer Biomet, a company that makes orthopedic implants. Days later, he filed legislation to delay a regulation that would have affected the company's profits. (The company's political action committee eventually contributed to Price's reelection campaign.) In another case, he bought between $15,000 and $50,000 worth of Innate Immunotherapeutics, an Australian penny stock whose biggest shareholder is a fellow congressman, Representative Christopher Collins of New York. Price acknowledges that he bought the stock after being told about it by Collins.
Price and his defenders have put up a stout defense. The transition team issued a statement last week saying that Price had been "transparent" and had "complied with all applicable laws and ethics." Well, maybe. But the more I looked into it, the more I wound up thinking that his situation wasn't all that different from that of business journalists. Take Zimmer Biomet.
Price says that the fact that he filed the legislation so soon after buying the stock was purely a coincidence. I suspect that's true. Last March, he says, his broker, who has discretion over his account, decided to rebalance his portfolio; Zimmer Biomet, a $22 billion market cap company, was added to Price's stock holdings.
Sure enough, if you look at Price's financial disclosure form for 2016, you'll see that March 17 was the one day he bought and sold stocks, 75 in all. Clearly, there was some kind of rebalancing going on.
But what also pops out at you is how many of those companies are in the health-care arena: Pfizer, Athena Health, Gilead Science, Eli Lilly, and so on. Did the broker overweight Price's portfolio with health care stocks without his client's knowledge? That's a lot harder to believe. And Price -- or his broker -- traded those stocks: according to the Wall Street Journal, Price bought and sold $300,000 worth of shares in health-care companies over the past four years.
At the same time, Price was an aggressive promoter of medical companies and doctors. That same Journal story noted that while he was trading health care stocks, he was also pursuing legislation that would affect them. The Daily Beast obtained documents from Medicare showing that Price "has repeatedly stepped up in favor of drug firms, device manufacturers and high physician payments." ProPublica documented a case last summer where Price pushed a federal agency to take down a negative study of a drug owned by a Georgia company. Et cetera.
Are these all "coincidences?" Even if the answer is yes, the fact that Price has been so cavalier about owning health-care stocks while taking action that can move these stocks makes it nearly impossible to accept his claims of innocence at face value. In the same way that journalists have a conflict when they write about a stock they own, Price has a conflict when he introduces legislation that can affect a stock he owns. Except that his conflict is much greater, because his power to influence the stock price is much greater. 
Although a 2012 law stripped Congress members of their immunity from insider trading laws, it's still unlikely that Price could ever be charged with a crime. The fact that his broker has discretion over his account gives him plenty of deniability. But his ethics are another matter. The House Ethics Manual says that actions by a member of Congress that "might affect his or her personal financial interests require added circumspection." Circumspection is exactly what's lacking in Price's attitude towards owning health care stocks. 
Price says he will sell over 40 stocks if he becomes the HHS secretary, including Pfizer, Athena Health and, yes, Zimmer Biomet. He promises that he will not "participate personally and substantially in any particular matter in which I know that I have a financial interest." Suddenly, it seems, he has awoken to the conflict those stocks pose. Better late than never, I suppose.
(As for Innate Immunotherapeutics, the penny stock Price bought on a tip from another congressman, I'll write about that next.)
(
Corrects company name of Zimmer Biomet in fifth, sixth, seventh and 13th paragraphs.
)
To contact the author of this story:
Joe Nocera at jnocera3@bloomberg.net
To contact the editor responsible for this story:
Jonathan Landman at jlandman4@bloomberg.net
Before it's here, it's on the Bloomberg Terminal.
LEARN MORE