Bonds
Trump's Plans for Spending Spook Foreign Bond Buyers
Foreign institutions led by China are selling Treasuries at an alarming rate.
by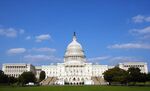 For most of the past decade, through all the fits and starts in economic growth, the increases in the U.S.'s debt load and worries over whether zero interest rates were fueling market bubbles, foreign central banks, sovereign wealth funds and other official institutions couldn't get enough of America's bonds. Now, things are getting a bit uncomfortable, as sales -- led by China -- gather steam.
From the start of the financial crisis in mid-2007 through March of last year, those foreign investors almost tripled their holdings of U.S. Treasuries, from $2.2 trillion to $6.3 trillion. Then something changed. What started as a trickle of net sales is threatening to turn into a flood. This trend deserves scrutiny because the U.S. relies on foreign nations to buy its debt and finance its deficits, which helps keep borrowing costs low.

Donald Trump, who was inaugurated as the nation's 45th president, plans to cut corporate taxes sharply and boost domestic infrastructure investment. These measures could come at the cost of a significant expansion of the federal budget deficit. So far, the revenue measures that would cover this program are vague. Yet if lawmakers are hoping that the market for government securities will buy into a tax windfall, they haven't heard of the bond vigilantes who sell Treasuries as a way to protest policies they consider reckless and inflationary.
In its latest report on the biggest foreign creditors, the Treasury Department said this week that investors outside the U.S. dumped $96.1 billion of Treasuries in November, cutting holdings to under $6 trillion for the first time since early 2014. To be sure, that may not sound so bad when stacked up against the $13.9 trillion of marketable U.S. debt that is outstanding, but November marked the fifth straight month of net sales, the longest such stretch 2001.
The sales were led by China, which dumped a net $66.4 billion of Treasuries in November. Some market participants are concerned that the second-biggest economy might not only be selling U.S. bonds to raise money to defend the weakening yuan, but it could also be responding to the hard-line comments of the incoming Trump administration on bilateral trade and the dollar. The nominee to be U.S. Treasury secretary, Steven Mnuchin, said during his Senate confirmation hearing that he would be willing to label China as a currency manipulator if warranted.


There is no hard evidence that China is reacting to any statements or actions from the U.S., and central banks are extremely conservative in the information they divulge about their sovereign debt portfolios, other than size and currency composition. That leaves much to educated guesswork. And more recent data from the Federal Reserve shows a small uptick in its holdings of U.S. bonds on behalf of foreign institutions, while the rebound in oil likely means there's less pressure on those energy-producing nations such as those in the Middle East to keep liquidating their Treasuries. 
And although China sold a net $203 billion of Treasuries between February and November, it still owns about $1.05 trillion. The Chinese know that a more rapid pace of sales -- or even wholesale liquidation -- would find them dumping bonds at greatly reduced prices, something no portfolio manager wants to do.  
The simplest explanation behind China's sales remains the currency driver. Capital is flooding out of the nation as its economy slows, forcing authorities to manage the yuan more closely and keep it from depreciating too rapidly, which would cause the currency to fall even more.  

 
For now it appears foreign and domestic private buyers have stepped in to fill the gap, but their willingness is not a given in what is shaping up as a nasty bond bear market. Yields have soared since the middle of last year as inflation shows signs of accelerating and as the Federal Reserve signals that it can now raise interest rates at a faster pace.
To contact the author of this story:
Scott Dorf at sdorf7@bloomberg.net
To contact the editor responsible for this story:
Robert Burgess at bburgess@bloomberg.net
Before it's here, it's on the Bloomberg Terminal.
LEARN MORE