Share the View
A Score Card for Donald Trump
A daily digest of opinions and analysis from Bloomberg View.
by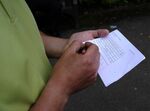 17 Metrics to Watch in the Trump Era
Will the Rust Belt add jobs? Will deficit spending rise? Will searches for "move to Canada" level off? Noah Smith, Tyler Cowen, Virginia Postrel and more offer metrics for gauging the new president's progress (which, naturally, we'll track in the coming months). 
Trump Pledges to Be President — of His Supporters
Extravagant promises, bombastic threats, campaign clichés: Donald Trump's inauguration address sounded like his stump speeches, and it was just as likely to win over Democrats. Jonathan Bernstein calls it a missed opportunity, and warns he won't have many more.
Trump Echoes, and Subverts, John F. Kennedy
The president's call for an "America-first" foreign policy was a striking departure from past priorities ... yet as rhetoric, it had a remarkably familiar ring. Noah Feldman considers why Trump might choose to mimic JFK while repudiating his internationalist vision of the world. 
Welcome to Trump's America. Start Digging the Moat.
Isolationism like we haven't seen before. Such great isolationism. Just terrific! Megan McArdle girds herself for life in a diminished America, where leaders no longer lead and voters seem ever-less-enamored of liberal democracy. 
And the Tweet Goes On
Trump once said he'd become "so presidential" that he'd bore people, but the carnival atmosphere surrounding him hasn't died down yet. Margaret Carlson makes sense of the 45th president's ongoing, and perhaps eternal, "failure to pivot."
Ritholtz's Reads
Sell Netflix, buy Blockbuster (Irrelevant Investor)
What really happened to the stock market during the Obama years (Time)
What the Constitution would look like in 140-character tweets (USA Today)
 (Read Barry Ritholtz's full news roundup.)
Bloomberg Gadfly
(Read more from BV's sister site for fast business commentary.)
Get Share the View every morning in your inbox. Subscribe here.
To contact the author of this story:

Before it's here, it's on the Bloomberg Terminal.
LEARN MORE