White House
Trump Pledges to Be President -- of His Strongest Supporters
Today's speech was a missed opportunity. He'll have others, but the clock is running now.
by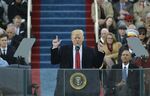 Donald Trump began his presidency the same way he began his campaign for the job. 
Literally. He ended with the same "Make America great again" flourishes ("strong again ... wealthy again ...") he used in his convention speech, as well as his campaign rallies. Much of what he had to say -- describing the United States as a miserable hellhole, using the still-divisive "America First" slogan, and more -- was just recycled campaign rhetoric. 
This was no doubt catnip for the new president's strongest supporters. 
It was not, however, presidential. Or I suppose we should now say: Traditionally presidential. Presidents in the past have used their inaugurations to reach out to the entire nation, especially those presidents who have (as Trump did) won narrowly. Trump today had little for anyone beyond those strongest supporters. Nothing for Democrats; little even, for that matter, for mainstream conservative Republicans who voted for him despite being less than enthusiastic.
More to the point: There was no effort to move from campaigning to governing. All new presidents begin campaigning for their second terms from the beginning of their first ones, but most of them do so by acting presidential. Trump may get there, but not today.
Of course, Trump is not only entitled to articulate the themes he campaigned on and intends to govern with, but it is appropriate that he do so. Usually, however, presidents discard much of the specific wording they used from the campaign (which is sure to remind all those who voted against them of that opposition), and broaden their language in an attempt to be more inclusive. 
Trump did very little of that in his inaugural address. 
And the reasons for him to do all of that are so much more pressing than they are for most presidents, who after all come in with more solid election victories and higher popularity. He also has more to prove to the people he's now going to have to work with in Congress, in the executive branch, and the rest of permanent Washington than most presidents have. 
The challenge for Trump in his inaugural address was to find a way to signal to his strong supporters that he was still very much with them -- while also welcoming Americans open to giving his presidency a chance. A rehash of a campaign speech did the first, but not the second.
All that said: How he acts from this point forward will matter far more than what he said today. Inaugural speeches tend to be disappointing, at least those not delivered by Abe Lincoln. 
What matters more is his botched transition and whether he finds a way to get his administration up and fully functional as quickly as possible despite all the formidable obstacles already in place and the new and unpredictable ones all presidents wind up facing. Today's speech was a missed opportunity. He'll have others, but the clock is running now.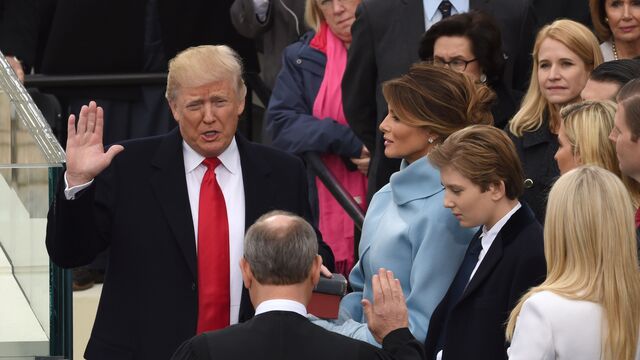 To contact the author of this story:
Jonathan Bernstein at jbernstein62@bloomberg.net
To contact the editor responsible for this story:
Mike Nizza at mnizza3@bloomberg.net
Before it's here, it's on the Bloomberg Terminal.
LEARN MORE