view
Fighting the Fed Gets Much Tougher for Bond Traders
Complacency may no longer be the right investing strategy.
by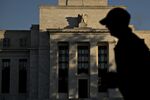 The times, they are a changin' for bond traders.
The way to make money in debt markets for much of the past decade has been to go against one of most basic tenants of investing theory: "Don't fight the Fed." 
Thick layers of senior management in hedge funds, banks and money managers owe their careers to never forgetting to "buy the dip" in U.S. Treasuries whenever the Federal Reserve talked about stepping up the pace of interest-rate increases -- because they never did. It's quite a reach for market sages to grant the Fed the likelihood of even two rate hikes in 2017, when the policy makers forecast that three are on tap.
Yet there is a growing sense in the bond community that the complacency trade is no longer a winning one -- at least not now. The shock election of Donald Trump to the U.S. presidency has threatened to upend the slow-growth, no-inflation, secular-stagnation paradigm. Money managers are jittery after a fourth quarter when they suffered painful losses that exceeded 10 percent on longer-maturity U.S. government bond funds, which swiftly erased the bulk of the year's gains. 


By most measures, inflation is creeping toward, and in some cases, has achieved the Fed's long-term goal of 2 percent. Core personal consumption expenditures are the Fed's key variable, and they are grinding higher, to 1.65 percent in November from 1.31 percent in mid-2015. The Labor Department said earlier this month that average hourly earnings of U.S. workers rose 2.9 percent in December from a year earlier, the biggest gain since 2009, with the economy now in full employment mode. And on Wednesday the government said its consumer price index jumped 2.1 percent in December from a year earlier, the most since June 2014.


U.S. businesses are facing more pressure to show they will be creating jobs under a Trump administration. On Tuesday, the president-elect praised General Motors Co. for a $1 billion plan for investment in the U.S., after criticizing the company earlier in January for importing some models from Mexico. On Tuesday, Wal-Mart Stores Inc. also boasted about job growth. Ford Motor Co. and Fiat Chrysler Automobiles NV announced new U.S. spending plans earlier this month. Bayer AG and Monsanto Co. promised Trump $8 billion of investment in the U.S. and thousands of new jobs should their planned merger, the biggest-ever in the agricultural industry, obtain approval from regulators.
Whether the upward momentum in prices and wages can be maintained will be the key to trading and investing in Treasuries for 2017. Treasury Inflation Protected Securities maturing in 10 years signal that traders are more convinced that the rate of inflation will reach the Fed's target and stay there, rather than slip lower in coming years.  
Hedge funds and other large speculators are still largely betting on higher bond yields, which is probably not certain given the positive economic trend lines. Perhaps the time has come to stop fighting the Fed. Their credibility is improving for reasons not of their doing: radical political upheaval. 
To contact the author of this story:
Scott Dorf at sdorf7@bloomberg.net
To contact the editor responsible for this story:
Robert Burgess at bburgess@bloomberg.net
Before it's here, it's on the Bloomberg Terminal.
LEARN MORE