Share the View
Watching the Yuan Will Give You Whiplash
A daily digest of opinions and analysis from Bloomberg View.
by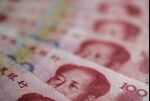 China's Yuan Woes Get Worse
It's up! No, it's down! Now it's up again! Wait, what? The government's currency goals are in irresolvable tension, and Christopher Balding says more turmoil is in store.
Bear Market in Bonds Already Looks Shaky
"Fast money" traders thought they could defy history. Scott Dorf explains why they're in for a nasty surprise. 
Farewell to Paul Ryan's Republican Agenda
His proposals were too pure for this world — or at least, too realistic about budgeting. As Donald Trump makes expensive promises of universal health coverage and middle-class tax cuts (with no plans to pay for them), Francis Wilkinson pronounces the House speaker's deficit-hawkish agenda DOA.  
A Losing Strategy for Trump Critics 
Don't normalize Trump, the critics say. He's not a normal politician. Well, isn't that the point? Justin Fox says the man who upended every convention in American politics won't be brought down by appeals to norms.
Ritholtz's Reads
 (Read Barry Ritholtz's full news roundup.)
Bloomberg Gadfly
(Read more from BV's sister site for fast business commentary.)
Get Share the View every morning in your inbox. Subscribe here.
This column does not necessarily reflect the opinion of the editorial board or Bloomberg LP and its owners.