Editorial Board
Hard Questions for Trump's Health Secretary Pick
Tom Price needs to let Americans know how he'll protect their health -- and insurance.
by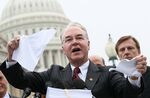 At his confirmation hearing Wednesday, Tom Price, the U.S. representative from Georgia who is Donald Trump's nominee to lead the Department of Health and Human Services, will no doubt be asked about conflicts of interest. Specifically, Price will face questions about his decision to trade stocks whose value may have been affected by legislation he sponsored. 
Related: How to Deal With Trump's Cabinet
This is as it should be. But senators should save plenty of time to ask about Obamacare, the health-care policy issue that overshadows all others during this presidential transition.
The Affordable Care Act, for all its imperfections, has provided health insurance for at least 20 million Americans, without pushing people off employment-based insurance, accelerating the overall rise in premiums, or increasing the deficit. Yet Price and Trump have made clear their desire to see the law repealed, and Congress is attempting to get that done right off the bat, despite not having explained how they plan to replace it.
If lawmakers are successful, insurers now selling Obamacare policies would suddenly find themselves in an intolerably uncertain and unpredictable market. And Price would be the one who would have to somehow persuade them not to give up, leaving those millions of policy holders faced with not just higher copays but potentially no insurance at all. It's essential to find out how Price thinks he could do that, and more broadly, what he thinks a successful health-insurance system would look like. Would as many Americans be covered as are now?
Price has criticized Obamacare's efforts to nudge doctors, hospitals and other providers toward providing higher-quality care by changing the way they are paid. But he hasn't yet said how, without these initiatives, the federal government could control the growth of health-care costs -- without simply reducing the amount of care provided or shifting costs to patients. On drugs, Price has opposed allowing Medicare to negotiate lower prices. Will he push back against Trump's support for that approach?
Finally, Price would also assume responsibility for safeguarding public health -- a job of growing urgency, given that U.S. life expectancy has begun to fall. Among the culprits are an uncontrolled opioid epidemic, obesity and smoking (still the country's leading cause of preventable death and disease).
Yet Price has opposed regulating tobacco as a drug. And he has voted against efforts to provide children's health insurance, to improve access to mental health care and to guarantee hospital care for people who can't afford copayments. Price needs to let Americans know what he will do to protect and improve their basic health.
--Editors: Christopher Flavelle, Mary Duenwald.
To contact the senior editor responsible for Bloomberg View's editorials: David Shipley at davidshipley@bloomberg.net .
Before it's here, it's on the Bloomberg Terminal.
LEARN MORE