Cars
Why Americans Won't Buy Chinese Cars
China's latest entrant to the U.S. auto market is set up for failure.
by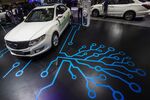 What would it take to convince American drivers to buy a Chinese-branded car? China's automakers have tried and failed to answer that question for at least a decade. Now another one wants to try: This week, on the eve of the Detroit Auto Show, Guangzhou Automobile Group Co. announced that it will begin exporting cars and sport-utility vehicles to the U.S. next year.
Although GAC's signature brand may be an evocative one for Americans -- it's called the Trumpchi -- don't bet on any big hits. Instead, GAC is likely to falter due to a familiar combination of impatience, inexperience in marketing to Americans and an unswerving belief that its domestic success can quickly translate globally.
If history is any guide, GAC's struggles will start with branding, which has proven notoriously difficult for Chinese companies expanding overseas. Interbrand's 2016 list of the 100 Best Global Brands, which ranks them by value and how they influence consumer choice, included only two from China: Huawei at No. 72 and Lenovo at No. 99. As of 2015, only 22 percent of consumers outside China could name a single Chinese brand.
Worse, "Made in China" still evokes mistrust in many parts of the world, a perception stoked by a steady procession of Chinese food scares and product-safety scandals. In the Reputation Institute's most recent ranking of the most reputable companies, not one Chinese firm made the top 100. China's carmakers are no exception. Although they've come a long way from the days when they routinely failed safety tests, they're still plagued by manufacturing defects and often perceived as unreliable.
Another challenge is that many Chinese companies have a habit of "imitating" foreign brands to the detriment of their own products. And automakers are among the guiltiest. Most famously, the Chery QQ was accused of being a blatant knockoff of the Chevrolet Spark in a 2004 lawsuit (eventually settled). More recently, Jaguar Land Rover sued China's Jiangling Motors Co. over striking similarities between its Landwind X7 and the Land Rover Evoque. If GAC wants to make U.S. critics and consumers happy, it'll have to come up with something truly original.
That goes for its marketing efforts, too. Many of China's top brands emerged from manufacturers that faced little competition as the country's economy boomed. One result is that Chinese companies are rarely willing to commit to the arduous marketing campaigns necessary to take their unknown brands global. Instead, they tend to bank on one-off promotional campaigns: Think of WeChat spending $200 million to hire Lionel Messi as its global pitchman. GAC has its own history of expensive promotions with limited follow-through, including an inexplicable product placement in 2014's "Transformers: Age of Extinction." It'll need to think a lot more ambitiously if it wants to break into a highly competitive new market.
Beyond all that, GAC will face some challenges unique to the U.S. For one, its top brand echoes of the name of a polarizing president-elect. It's also entering the American market at a time when automotive brands of all kinds may be in terminal decline, as autonomous technology erases distinctions between them. Finally, its cars will need to be reengineered to meet the U.S.'s more stringent safety and emissions standards, and it will need a network of dealers to sell them, all of which will make competing on cost more difficult.
GAC, which has aspired to export cars for years, says it's aware of these hurdles. In 2015, the company's general manager told Automotive News that it would compete not on quality or service but by charging 30 percent less than its rivals in the same vehicle categories. Even if that's financially feasible -- a big "if" -- it's unlikely to reassure consumers concerned about the safety and reliability of an unknown Chinese brand.
There might be a better approach. Rather than push ahead with a brand that's unlikely to resonate with Americans, GAC could seek out partners with U.S. distribution networks and leverage their local knowledge and connections. Both GM and Volvo are selling Chinese-made cars in the U.S. under their own well-established brands, including the Buick Envision SUV. In doing so, they're combining Chinese manufacturing prowess and American salesmanship, with some success.
GAC should try something similar -- and dump the Trumpchi.
To contact the author of this story:
Adam Minter at aminter@bloomberg.net
To contact the editor responsible for this story:
Timothy Lavin at tlavin1@bloomberg.net
Before it's here, it's on the Bloomberg Terminal.
LEARN MORE