Retail
Retailers Get the Hard Sell in an Amazon World
Back-end suppliers offer personalized service and efficiency. But are consumers being offered anything new?
by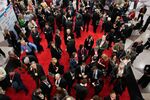 Next week, the nation's retailers -- and, more to the point, the people who want to sell things to the nation's retailers -- will gather at the Jacob K. Javits Convention Center on the western edge of Manhattan for the National Retail Federation's "Big Show."
On the advice of a reader of the column I wrote in early December about Amazon.com Inc.'s checkout-less grocery store, I signed up for a press pass. I figured I'd head over for a little while one afternoon (thanks to the Hudson Yards subway station, it's now possible to get to the Javits Center and back in less than half a day), visit a few booths, and maybe get an idea for a column or two.
I also have a fond memory of attending an NRF cocktail party nine years ago where I started chatting with this random dude who suggested that I come down to Texas to interview him and his college roommate. The random dude was Kip Tindell, founder of Container Store Group Inc. (and current chairman of the NRF), and his former roommate was John Mackey, founder of Whole Foods Market Inc. I subsequently went to Texas to interview them. It was fun. So I guess I was also hoping I might get invited to another party like that.
Four days after I registered, the e-mails began. It was one or two a day at first, but the pace has picked up as the conference nears. I've gotten about 180 so far. One was an invite to an NRF cocktail party, which I said yes to, but the rest have all been pitches from companies (or their public relations agencies) wondering if I'd be interested in learning about their unique approach to retail analytics or workforce management or payment systems or "omni retail inventory and supply chain solutions." Many of the 180 e-mails are follow-ups, but overall, representatives of 100 different companies have contacted me to suggest an interview with an executive.
I know this because I spent a couple of hours earlier this week reading through the e-mails and entering the companies' names and what they sell in a spreadsheet. Other than the cocktail party invite, I haven't actually responded to any of the e-mails. I know this is rude, but it's the only way one can survive as a journalist in the modern age. Even a "no thanks" to an unsolicited PR pitch is likely to generate multiple follow-ups. It's a little like a fish nibbling on bait -- show the slightest interest, and the wielder of the fishing rod gets all excited at the prospect of attaching a barbed hook to your lip. To make things worse, the fish have been getting scarcer, while the number of anglers hasn't. And yes, there's data on that:
The ratio of PR specialists to reporters and correspondents is up from 3.4-to-1 in 2004 to 5.3-to-1 in 2015, although it hasn't risen much since the last recession.  And an event like the NRF Big Show provides a unique opportunity for companies in search of attention to connect with the remaining journalists who might be inclined to give them some. I didn't want to totally ignore them -- I had signed up for the thing, after all. By putting all the pitches in a spreadsheet, I thought I might be able to make sense of the deluge, and choose a couple of e-mails to actually respond to. At first, I also thought I might make a chart out of my findings, but I soon realized that classifying all the different companies in any kind of consistent way would take hours more, and possibly not deliver much useful information.

Still, a few things stood out. One was that only two of the pitches I got were from actual retailers -- and one of those was not so much about the company as it was about its chief executive officer, a serial entrepreneur who "has generated market-leading returns by creating bespoke capital and operational solutions through the contemporaneous application of algorithmic, technologic and cultural change." Sounds painful! The rest were all from companies that sell products or services to retailers -- mostly software of some kind or another, but also scanners, cash registers, electronic labels, robots, curbside pickup, market research and consulting. The two most frequently recurring themes were (1) efficiency and (2) personalization.
This makes sense in a retail environment increasingly defined by personalized yet hyperefficient Amazon. Retailers have to simultaneously get leaner and more capable of responding to individual customers' whims. I can't help but think that competing on Amazon's terms is never going to be an entirely winning proposition, though. Winning will require coming up with new products and services to sell. And if the contents of my e-mail inbox are any indication, the nation's retailers are going to have to figure that out on their own.
This column does not necessarily reflect the opinion of the editorial board or Bloomberg LP and its owners.