White House
Trump Can Resolve His Business Conflicts. Let's See If He Does.
It wouldn't be hard for the president-elect to follow the example of his predecessors. Let's see if he does.
by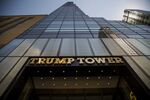 Donald Trump plans to give his first press conference since July today. He cancelled a similar meeting last month at which he'd promised to say how he'd handle the financial and business conflicts of interest that will accompany him to the White House.
If that's still the agenda, and if Trump were a normal public official, this is what we'd expect to hear:
Trump will release the last five decades of his personal and corporate tax returns, as every other U.S. president of recent vintage has done. Trump's wife, Melania, will release her tax returns dating from her marriage to Trump in 2005.
Trump will sell all of the Trump Organization's relatively modest real-estate and golf-course holdings and end all licensing deals that make use of the Trump name. The proceeds of the sales will be put into a blind trust managed by an independent third party.
Trump's eldest sons, Donald Jr. and Eric, who have helped run the Trump Organization with their sister Ivanka, will look for new jobs that don't involve transactions of any sort with the federal government and the White House.
Trump's son-in-law, Jared Kushner, will decline to join the White House as a special adviser to the president in keeping with the spirit of a 1967 anti-nepotism law that bans public officials from giving federal jobs to family members. Kushner's wife, Ivanka Trump, will do the same (she's already committed to leaving the Trump Organization and her own businesses).
Trump will settle dozens of lawsuits that he's still involved in before Jan. 20, Inauguration Day.
Well, no. It's unlikely that Trump will take all -- or even most -- of these steps.
It's long been clear that Trump should release his tax returns and resolve his looming financial conflicts. Yet he has continued to appear indifferent to conventional requirements of financial transparency and freedom from business conflicts.
Although Trump hasn't prioritized those issues, voters aren't indifferent to them. While the public doesn't appear to think that Trump needs to sell his businesses, according to a recent Bloomberg National Poll, a majority of those who responded think that he needs to choose between being a president and being a businessman.
By releasing his tax returns, Trump would give the public a window onto how he makes his money, the global breadth of his operation, the nature of his charitable giving and the possible financial influences that may affect his decisions in the Oval Office. By liquidating his business holdings, he would remove conflicts that might taint the ambitious policy goals he has declared for his administration.
To date, Trump has only agreed to pull out of some overseas licensing deals, shutter his charitable foundation and promised to refrain from cutting personal business deals while his eldest sons run his business. On Monday, Trump named Kushner to a loosely defined senior advisory role, which is likely to make the 36-year-old real-estate investor the most powerful person in the West Wing other than Trump. (Kushner, unlike his father-in-law, has said he will divest his own business holdings to avoid global conflicts like a business negotiation with Chinese investors that the New York Times recently outlined.)
Trump's supporters have argued that his business is too large and complex to be easily liquidated. The media has helped buttress this argument by regularly citing Trump's "vast real-estate empire." The reality is that the Trump Organization is a compact, and largely domestic, operation -- neither vast nor an empire -- and could be unwound in any number of ways.
If the Trump Organization continues operating in its current form, with Trump's sons exercising influence, there will be ample opportunities for the Trump family to profit from what has already been its mingling of personal dealmaking and public policymaking.
Because the Trump Organization is privately held, it isn't subject to the same disclosure rules as a publicly traded company, so its operations and financial relationships are opaque -- including the use of limited-liability corporations to mask the president-elect's business activities. LLCs offer tax advantages to deal-makers like Trump. They also can offer anonymity and sanctuaries for undisclosed debts, and Trump has made extensive use of them throughout his career. Trump and his children could make stealthy use of LLCs during the Trump presidency -- enabling them, for example, to receive payments for steering along government contracts as part of Trump's public infrastructure spending plan.
Trump's indebtedness is also much greater than the $315 million he has disclosed in public filings. The Wall Street Journal recently examined his portfolio and calculated that he is saddled with at least $1 billion in loans and securitized debt held by about 150 financial institutions, including Deutsche Bank, JPMorgan Chase, BlackRock, Vanguard, T. Rowe Price, Pimco, Prudential, Fidelity and Wells Fargo, among others. Liquidating the Trump Organization and erasing those debts would unburden the Trump White House of conflicts with lenders and investors that the Trump administration will regulate.
Conflicts-of-interest issues don't appear to be a major worry for many potential members of Trump's cabinet, either. Several of his key nominees are in confirmation hearings this week, even though the federal Office of Government Ethics thinks that the hearings are premature given that some of the appointees have yet to comply with federal financial disclosure rules.
The rush "has left some of the nominees with potentially unknown or unresolved ethics issues," OGE Director Walter Shaub noted in a letter he sent Friday to two Senate Democrats, Charles Schumer and Elizabeth Warren.
On Monday, Schumer sent Senate Majority Leader Mitch McConnell a copy of a letter McConnell himself had written in 2009 that emphasized how important it was for President Barack Obama's nominees to fulfill financial disclosure mandates before confirmation hearings. Also on Monday, more than two dozen Democratic members of Congress, including Warren, introduced the Presidential Conflicts of Interest Act of 2017, which would require presidents, vice presidents, their spouses and their minor or dependent children to divest themselves of holdings that present financial conflicts.
Their act is unlikely to go anywhere in a Congress controlled by Republicans unless the GOP comes around to the notion that conflicts of interest aren't partisan issues, but instead are simply about good government and corruption-free policymaking.
Trump himself could allow his thinking to evolve as well. While the emoluments clause 1 of the Constitution forbids presidents from accepting gifts or money from foreign powers, the president remains exempt from the federal conflict-of-interest rules that apply to most other members of the federal government. Trump noted that fact in an interview with the New York Times late last year, declaring: "The law's totally on my side. The president can't have a conflict of interest."
The president certainly can have a financial conflict, of course. He just can't, in theory, be forced to remedy the situation under current law. Instead, tradition has been for presidents to hold themselves to a higher ethical standard regardless of the letter of the law -- which is why Trump's recent predecessors from both parties have divested their assets or placed them in blind trusts. Trump's press conference today will demonstrate how seriously he respects that tradition and the legacy he's inheriting.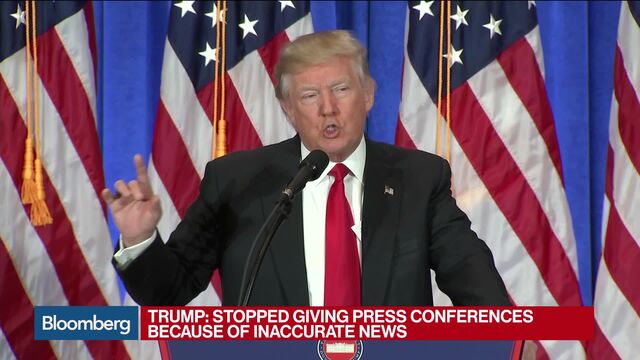 To contact the author of this story:
Timothy L. O'Brien at tobrien46@bloomberg.net
To contact the editor responsible for this story:
Jonathan Landman at jlandman4@bloomberg.net
Before it's here, it's on the Bloomberg Terminal.
LEARN MORE