Europe
Germany's Shift to the Right Is Unnecessary
The ruling centrist parties are overshooting the target with their security agenda.
by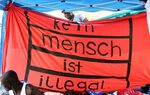 Less than a month after a terror attack that killed 12 people in Berlin, the centrist coalition that governs Germany is moving toward tougher measures against suspected terrorists and a lower tolerance for rejected asylum seekers who try to stay in Germany. Though some of the proposed policies would merely correct the laxness in current procedures, others would roll back liberties important to Germans in light of their history.
On Tuesday, Interior Minister Thomas de Maiziere, representing Chancellor Angela Merkel's Christian Democratic Union, and Justice Minister Heiko Maas of the Social Democratic Party (SPD) jointly proposed a set of anti-terrorist measures. It includes allowing detention or tracking through electronic bracelets for foreigners designated as "Gefaehrder," or dangerous persons, by Germany's special services. The ministers want to allow pre-deportation detention for 18 months, compared with three months today, and they threaten economic measures such as the withdrawal of development aid from countries that are reluctant or too slow to take back deportees from Germany. Asylum seekers who lie to authorities about their identity face restrictions on moving around Germany -- a measure that specifically responds to Berlin attacker Anis Amri's use of 14 different identities to travel around freely despite being a suspected terrorist.
Only a few days ago, de Maiziere accused the SPD of failure to cooperate on tightening security -- and indeed, the center-left party has been historically reluctant to restrict liberty in favor of security. But now, it, too, has swung to the right. Its leader, Vice Chancellor Sigmar Gabriel, backed more video surveillance in German cities after the Berlin attack -- a measure many privacy-minded Germans oppose, no matter how helpful to police it might be.
Other moves proposed by de Maiziere and Maas also sit uncomfortably with German liberals, always mindful that the country not slip back into the habits of the ugly surveillance states of its recent past. They point out that detention for "dangerous persons" is imprisonment before any crime has been committed. It's hardly fair to differentiate between foreign "Gefaehrder" and those with German passports in their pockets: Such discrimination supports the idea that immigrants are a bigger threat, though that is clearly not true. A terrorist who shot nine people in Munich last July was German-born, and there's no way to deport the members of neo-Nazi terrorist groups. There will be much argument about the proposals' efficiency, too -- one of the killers of a priest in Normandy last year wore a tracking bracelet.
In policy terms, the ruling coalition is making the mistake of conflating two problems: terrorism and the difficulty Germany is facing in expelling immigrants it doesn't want. A lot can be done to resolve both issues separately.
Earlier this month, de Maiziere proposed strengthening the federal police force at the expense of state law enforcement agencies, arguing it didn't have enough reach to pursue suspects throughout the country. He has been criticized for that both by leftists and by conservative states' rights advocates. There must be ways, however, to ensure more cooperation between the state and federal security services -- unified databases, the seamless hand-off of suspects, more complete information sharing. It wouldn't be the same as setting up a strict centralized chain of command, not to mention a surveillance state, but it would help track individuals such as Amri.
The deportation issue was dragged into this debate because Amri was officially waiting to be sent home to Tunisia, but that country was slow to issue his travel documents, initially denying he was its citizen. But Germany doesn't have a problem with the hard-to-remove deportees because of the threat that they are terrorists; the problem is there are too many of them. It's costly to keep them, and criminal groups and terror organizations can exploit the government's obvious weakness in sending these people home.
Last month, McKinsey, the management consultancy, presented to the German government its proposals on managing the removal of failed asylum seekers and immigrants. The daily Die Welt obtained a copy of the report. It says the German government is not restrictive enough in issuing "tolerance" papers to immigrants who, by law, should be removed but, like Amri, cannot be sent back for bureaucratic reasons. It's easier for overworked migration service workers to issue the temporary permits than to find out whether a failed asylum seeker is fully cooperating -- say, in obtaining travel papers.
State migration services need more coordination, McKinsey said. As with policing, Germany's federal structure is too loose in this area, and states don't always have the resources for quick and efficient action.
Germany, according to McKinsey, also needs to work more actively with the immigrants' home countries; Maas's threat of withdrawing aid is an echo of that.
Though Germany has been sending home more immigrants, both forcibly and voluntarily, -- that number, according to McKinsey, has increased from 28,000 in 2014 to 85,000 last year -- the number of "tolerated" foreigners is on the increase. That's not a normal situation regardless of any terrorist threat. Germany never signed up to receive everyone who wanted to live there, just refugees from conflict zones and mass repression. It needs the rules and machinery to send unwanted people -- especially those who have committed crimes -- back where they came from.
The ruling parties may also be making a political error. There is no indication that, after the Berlin attack, Germans are more scared of terrorism. They still trust their police, which has recently been more vigilant and effective. Linking deportation with terrorism is strong political medicine, which could perhaps be justified if society was more fearful and leaning toward populist remedies -- but polls have consistently shown that the ruling coalition can still get a majority in parliament, and the main parties' popularity has remained stable for months.
Perhaps Merkel and her coalition partners don't believe the polls -- but there is no clear reason for mixing the security and immigration agendas and going overboard on restrictive solutions. More countrywide coordination is less sexy as an agenda, but it could be more effective in solving the problems and getting Germany through this year's election without major upheavals.
To contact the author of this story:
Leonid Bershidsky at lbershidsky@bloomberg.net
To contact the editor responsible for this story:
Therese Raphael at traphael4@bloomberg.net
Before it's here, it's on the Bloomberg Terminal.
LEARN MORE